Geodetic engineering student bags two major awards in a nat'l summit
Details

Written by Marianne C. Bayron

Published: 12 May 2023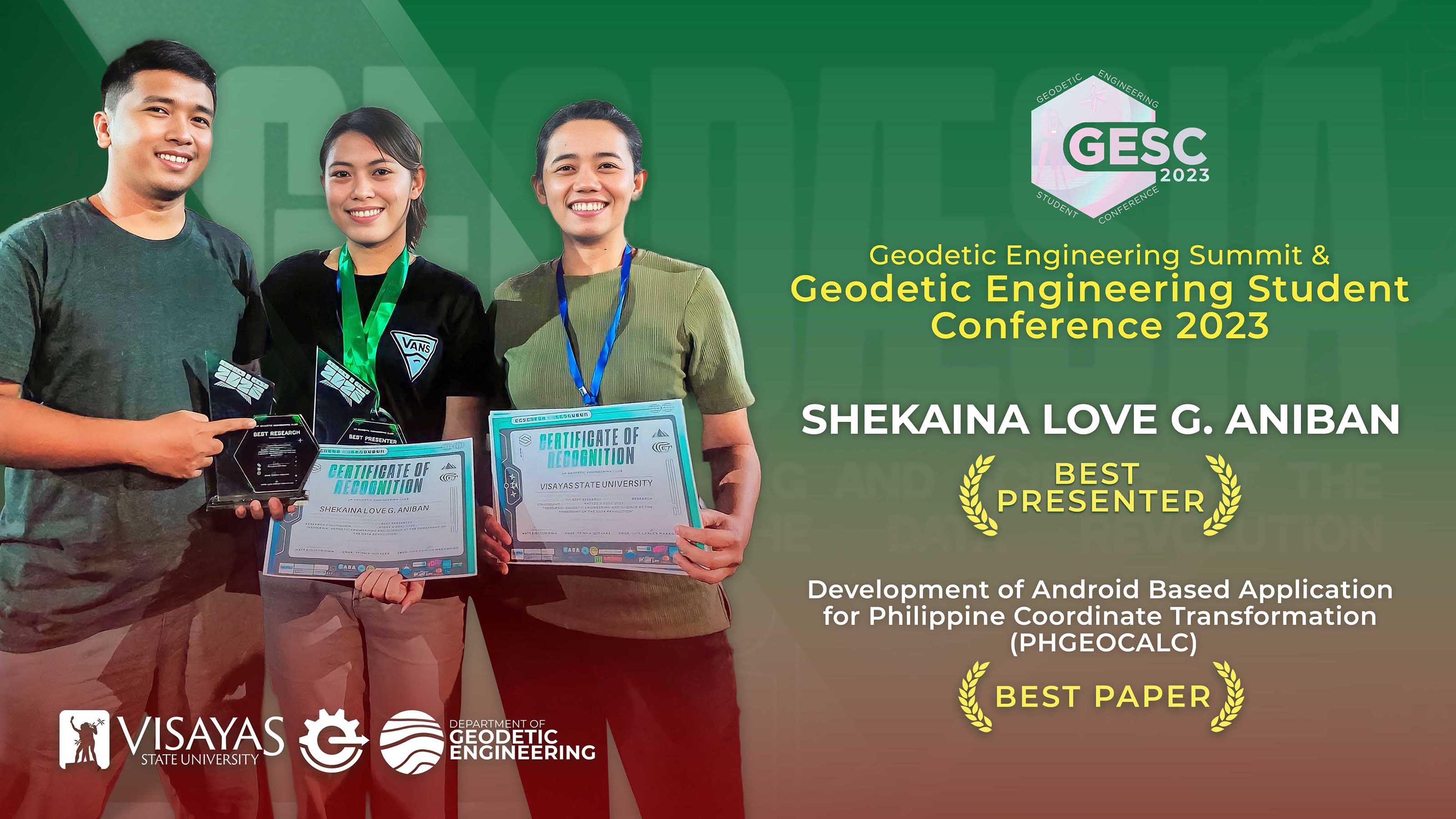 A graduating student from the Department of Geodetic Engineering (DGE) who developed a mobile application that solves Geodetic Coordinate Conversion won Best Research and Best Presenter awards at the biggest Geodetic Engineering (GE) summit in the country this year.
Shekaina Love G. Aniban has made her home department and the whole VSU community proud after winning the research competition held during the first-ever National Geodetic Engineering Summit (NatGES) and the 15th Geodetic Engineering Student Conference (GESC) that ran from May 8 to 9, 2023 at the University of the Philippines - Diliman.
This annual event which was formerly known as GESC, now NatGES x GESC, gathered GE students and professionals from the academe and industry in the Philippines for various forums and competitions relevant to their field of study.
The winning research project of Aniban is an application that can automatically compute 30 pairs of conversions. According to her, the idea stemmed from addressing the long process of solving coordinate transformation and conversion problems.
"Actually from the title alone, I developed a mobile application that is simply like a calculator that can solve Geodetic Coordinate Conversion. I chose this [idea] since the process of solving coordinate transformation and conversion is quite too long. And of course, if we do this manually, there is a big chance of getting a human error. Because the process is long, as well as the formula in just one coordinate system, how much more if there are many [coordinate systems]? [That's why] I developed an app that will automatically solve it," Aniban said.
As of this writing, the app is ready for usage but is put on hold for its patent application according to #ProudViscan GE winner.
VSU sent 56 delegates for this national assembly. According to Aniban, she was grateful for having the opportunity to join the NatGES x GESC 2023 because of the support of the VSU-DGE.
"There were GE talks, there were new trends in our profession. It is a beautiful experience to widen our horizons," she happily shared.
Aniban is one of the three research presenters chosen by the committee who assess the submissions of each higher education institution offering the GE degree program across the country. For her, having the privilege to share the product of her hard work–her research project, is the best feeling and experience, aside from winning the competition.
When asked about her edges over the other two competitors in the research presentation, she revealed that it is through the guidance of her thesis adviser, also the concurrent dean of the College of Engineering and Technology (CET) at VSU, Dr. Jannet Bencure.
"Well, I was thoroughly briefed by my thesis adviser. She gave me pointers and key advice on what to do (before the competition). From that, I felt a little confident," Aniban revealed.
Her proud thesis adviser congratulated her in a Facebook post after the news of her winning broke. She extended her gratitude to her family, friends, and classmates, and of course her home department for this achievement.
"When I did my [research project] defense, even if it was not a perfect defense, my department, the faculty, encouraged me to develop it further and improve the application. And to my thesis adviser, for she was the one who gave me many pieces of advice, even if she was so busy, she still managed to give me time," she concluded.
This year's NatGES x GESC is themed, "Geodæsia: Geodetic Engineering and Science at the Forefront of the Data Revolution."
Back in 2019, Mr. Feljun D. Sagliba also won the same awards as Anniban, with his study about the automation in computing longer formulas such as solar computations and coordinate conversion (PRS92 to WGS84) using GUI driven interface developed from a Python programming language.