VSU hosts reg'l forum on gender, development
Details

Written by KPRoca

Published: 19 June 2016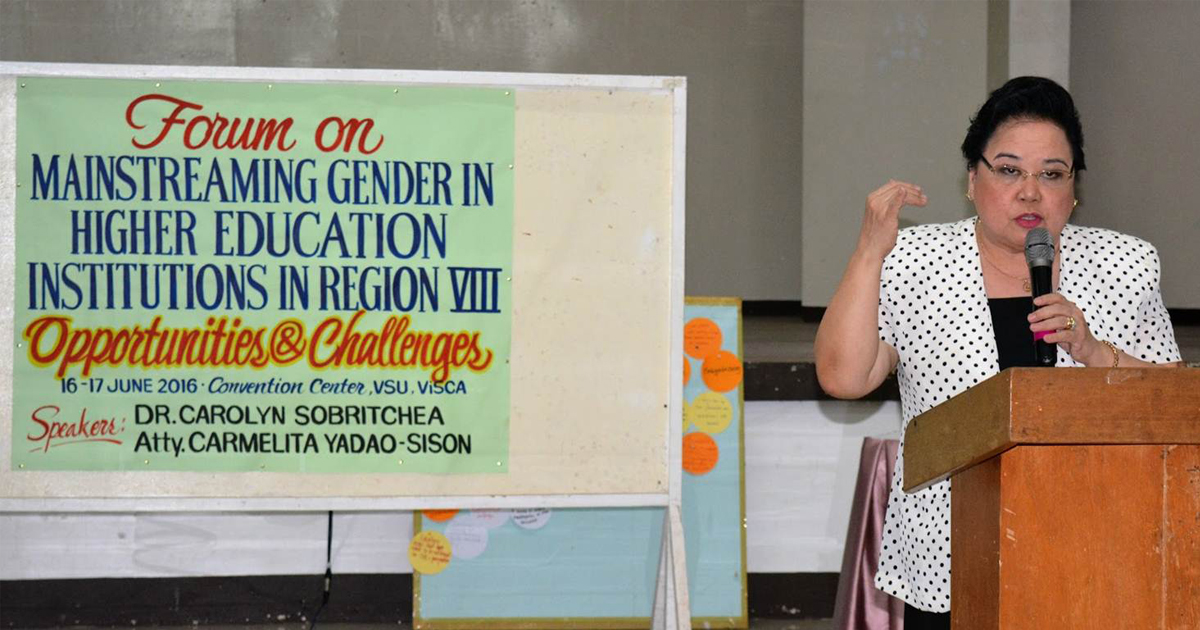 More than 50 Gender and Development (GAD) coordinators in Region 8 converged in VSU in a forum to mainstream gender in higher education institutions in the region, June 16, at the VSU Convention Center.
Spearheaded by the Eastern Visayas Association for Gender and Development (EVGAD), the forum sought to identify the gender issues and challenges prevalent among HEIs, and the corresponding plan of action for these concerns.
Atty. Carmelita Yadao-Sison, Director IV, CHED Legal & Legislative Services and Chair, CHED GAD Focal Point, emphasized that education is the most powerful tool that can be used to mainstream gender equality. GAD coordinators play a key role in this endeavor, Atty. Sison said.
At VSU, during the celebration of the National Women's Month, Prof. Maria Aurora Tabada, EVAGAD President and VSU GAD Coordinator, remarked that gender issues exist where there are differences between men and women. For one, the assumption that drug abuse is mostly committed by men is among the issues that GAD also looks into. GAD is also concerned with matters that may indirectly impact women, Tabada said.
The participants in the forum came from Samar College, Eastern Visayas State University-Main, University of Eastern Philippines, Samar State University, Maasin City College, Abuyog Community College, Naval State University, Saint Joseph's College, Palompon Institute of Technology, Franciscan College of the Immaculate Conception, Southern Leyte State University, Eastern Samar State University, VSU-Main, VSU-Alang-alang, VSU-Tolosa, VSU-Villaba and VSU-Senior High School.
For GAD-related concerns, visit the VSU Anti-Sexual Harassment Unit at the Institute for Strategic Research and Development Studies (ISRDS).