VSU alumna, int'l scientist inspires graduate students in a scientific lecture
Details

Written by Sab Amora

Published: 02 May 2018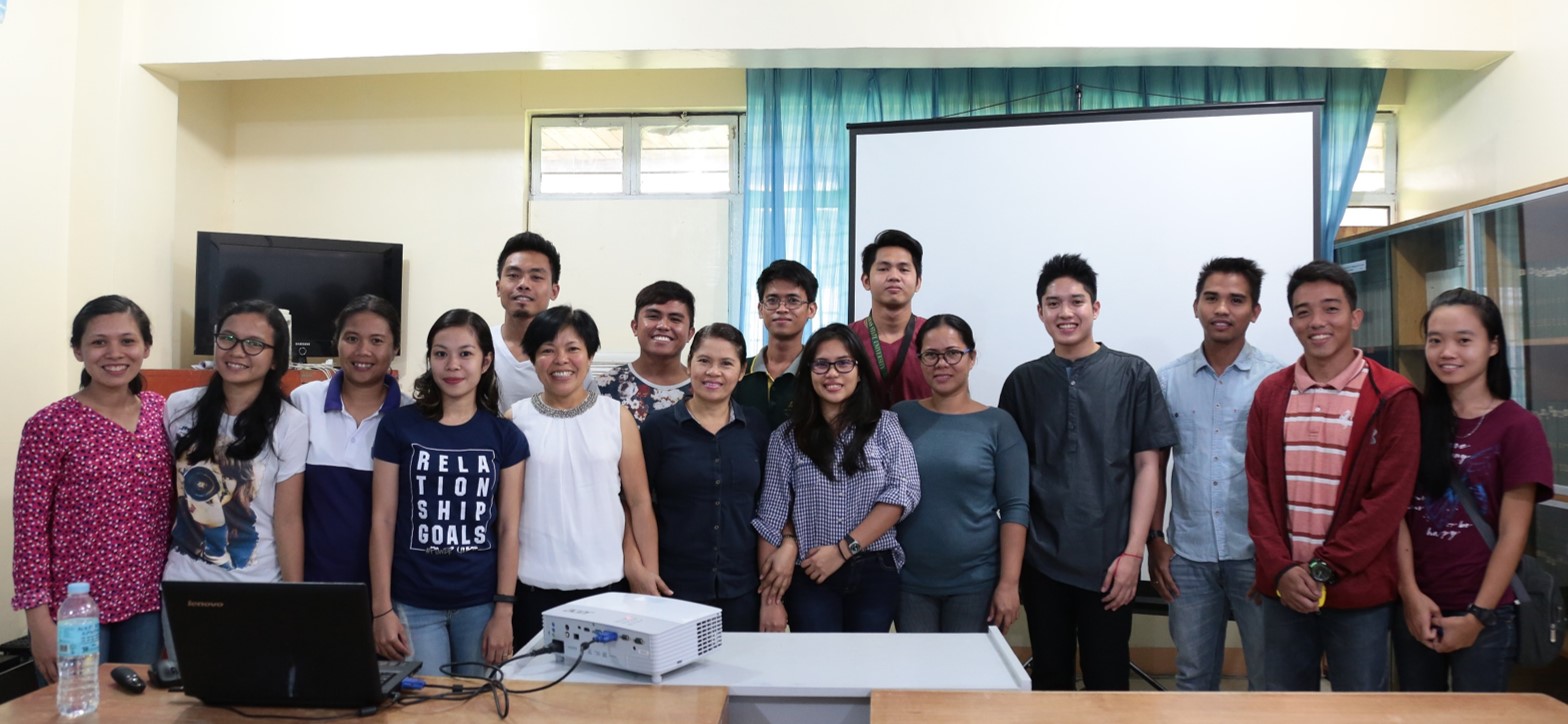 "You are the future. I now understand what that means. It means that you are the agent of change or improvement in the future," said Dr. Marife D. Corre, VSU alumna and professor at Gottingen University, Germany.
She said this during the culmination of her four-day lecture on terrestrial biogeochemistry held at the Conference Room of the Department of Soil Science (DSS) on March 15, 2018.

Dr. Corre fondly recalled that back when she was still a student, she would often hear her professors tell them that they are the future. However, her younger self could not imagine how that would be.
"But now that I am doing this [lecture], I [also] said the same. And believe me because I now embody what that means," Dr. Corre added.
Dr. Corre was a graduate of VSU in 1987. She then proceeded to the University of Kent in Belgium for her master's degree and later on to the University of Saskatchewan in Canada for her PhD. She also received her postdoctoral degree at the United States (US) Department of Agriculture in Pennsylvania.
In 2000, she moved to Gottingen University as scientific staff under the Faculty of Forest Sciences and Forest Ecology. At present, she works as a Senior Research Scientist at the university's Institute of Soil Science of Tropical and Subtropical Ecosystems, a leading research institute in quantifying soil greenhouse fluxes, nutrient bleaching losses and nutrient biogeochemistry.
In her lecture, Dr. Corre also encouraged the participating graduate students to apply for scholarships and exchange programs at the University of Gottingen, most specifically in her home unit. She then quipped that exchange students coming from VSU are really faring well in Gottingen.
"[We] hope to profit good students and let them come to us. If you are interested, we can always support your studies," Dr. Corre said.
Dr. Victor B. Asio, the Dean of the College of Agriculture and Food Science (CAFS), personally thanked Dr. Corre for coming and sharing her expertise on the topic despite her busy schedule as an international scientist.
"Dr. Corre is one of the best soil scientists and we are very proud because she is an alumna of our department. Probably one of you, many years from now, will be like her in terms of achievement," said Dr. Asio.
As a rejoinder, Dr. Beatriz Jadina of DSS hoped that the participating students were able to pick up vital information that would help them in conceptualizing ideas for their respective master's thesis and doctoral dissertation.
"You can help us generate information so that you can help address serious environment problems," Dr. Jadina added.
Ms. Cecille Marie Quiñones, VSU alumna and PhD student at the University of Gottingen under Dr. Corre's tutelage, expressed her gratitude to the professor and her faculty for the scientific and financial support she's receiving for her studies.
Quiñones, under Dr. Corre's supervision, is currently doing a study on nutrient response efficiency, soil greenhouse gas fluxes and nutrient leaching losses in vegetable production on andosol soil in Cabintan, Ormoc City. Quiñones went on to discuss the impact of her study to VSU.
"There are quantifications for rice fields and secondary forests, but none in other agro-ecosystems. There is no focus on vegetable production, or on pineapple, banana and sugarcane plantations which are primary products of the region. We don't know how much [gas] we are emitting. It is something that the country needs to know," Quiñones revealed.
The scientific lecture ran from March 12 to 15, 2018 and was part of a joint collaborative program between VSU and Gottingen University called 'Within the Framework of Erasmus Key Plus Action 107'.
Dr. Corre along with her fellow professor in Gottingen University Edzo Veldkamp donated international peer-reviewed journals to DSS for faculty and student use.
The lecture was participated in by VSU graduate students taking degrees related to agriculture and forestry.