President's Notes: Celebrating the Success of Higher Education in Eastern Visayas
Details

Written by Dr. Edgardo E. Tulin

Published: 19 May 2021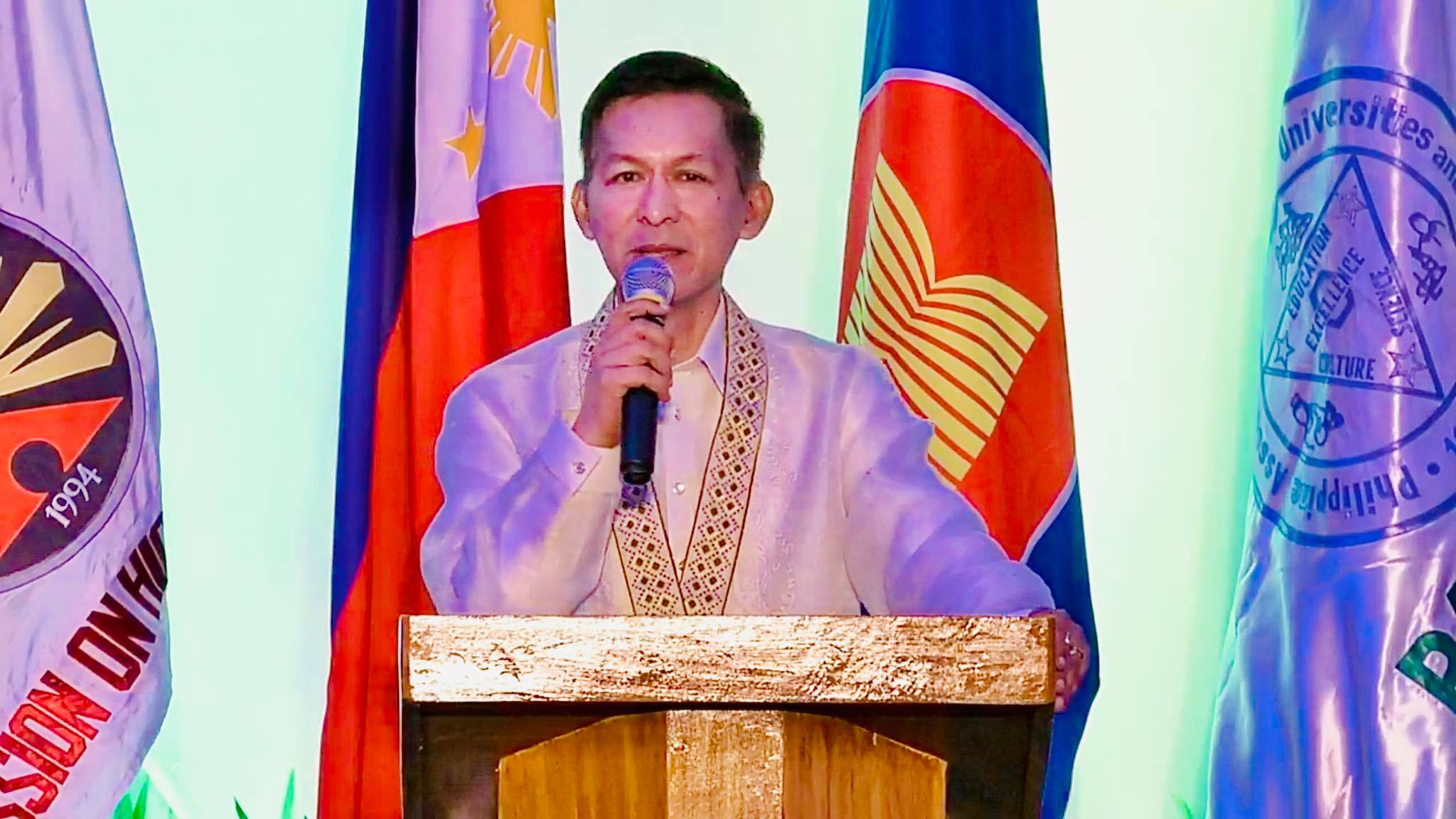 My respect to the ever-active CHED Chairperson and the brains behind the first-ever National Higher Education Day celebration, Dr. J. Prospero E. De Vera III, Sir. To our ever-supportive Mayor and father of the great City of Baybay, Hon. Jose Carlos L. Cari; to CHED Regional Office 8 Director, Dr. George M. Colorado who is now here with us together with his very dependable regional office staff; to my fellow SUC Presidents here in Eastern Visayas who also traveled all the way from the six provinces of Region 8 so that they too can join us personally in this celebration.
Please allow me to recognize them one by one starting with Biliran Province State University President Dr. Victor C. Cañezo, Jr., Eastern Samar State University President Dr. Andres C. Pagatpatan, Jr., Eastern Visayas State University OIC President Dr. George M. Colorado, Leyte Normal University President Dr. Evelyn B. Aguirre, Northwest Samar State University President Dr. Benjamin L. Pecayo, Palompon Institute of Technology President Dr. Norberto C. Olavides, Samar State University President Dr. Marilyn D. Cardoso, Southern Leyte State University President Dr. Prose Ivy G. Yepes, and last but not the least, University of Eastern Philippines President Dr. Cherry I. Ultra.
To our counterparts in the private higher education institutions here in Region 8, our hardworking faculty members, beloved students, and our live viewers across all Facebook pages of the 10 state universities and colleges here in Eastern Visayas, maayong buntag, maupay na aga, maganda at mapagpalang umaga po para sa ating lahat!
More than a year into this pandemic, we have been isolated from each other for quite some time now. This is the reason that we are excited to do a limited face-to-face event here in the beautiful campus of the Visayas State University. Of course, we are doing this with strict compliance to the guidelines set by our local Interagency Task Force here in Baybay City. We thank Mayor Cari for approving our humble request to hold this event inside our campus.
Allow me to extend my congratulations to Mayor Cari and his amazing LGU staff for keeping Baybay City safe from COVID-19. Because of the dedication and effective governance of our City government here in Baybay, we have kept our infection rate very low for the past year and I think it is even safe to say that we have maintained the lowest infection and transmission rates among the seven cities here in Region 8. And we have Mayor Cari to thank for keeping Baybay City a constant low-risk area for COVID-19.
I'm also personally assuring our good Mayor that all our invitees were screened properly in the border. They have secured their respective QR codes. They are also being billeted here in our on-campus lodging facilities with strict monitoring from our very own medical staff of the University Services for Health, Emergency, and Rescue.
When we were planning to hold this event, I and my fellow SUC Presidents explored the idea of meeting in person because we know how important the first-ever National Higher Education Day celebration is. Because after all, we are doing this event right now as part of the weeklong national festivities of the 27th Founding Anniversary of the Commission on Higher Education.
The theme of our celebration is "Padyak! Moving Forward, Claiming Victory for Philippine Higher Education. Pamantasan: Pandayan Tungod sa Kaunlaran". We see this theme very fitting as it highlights CHED's collective accomplishments for the past 27 years. Truly, free, equitable and quality higher education is important in pushing for long term national development. Slowly, we will soon reap the benefits of what we have done so far.
CHED has been a vital national agency that made way for the continuous growth and development of all the 10 SUCs and the other private HEIs here in our home region. For 27 years, CHED has effectively performed its mandate as the Philippine government's central agency in charge of promoting relevant and quality higher education, ensuring access to quality higher education, and guaranteeing and protecting academic freedom for continuing intellectual growth, advancement of learning, and research, development of responsible and effective leadership, education of high-level professionals, and the enrichment of historical and cultural heritage of our beloved country.
We see today's celebration as an opportunity to look back at our collective successes while also reflecting on the current challenges that we face today. Nobody here imagined the scale on which COVID-19 will directly impact higher education not just in our country but all around the world. But despite the imminent threat of this pandemic, all of us managed to open our respective universities and colleges to continue performing our very important mandate of educating millions of Filipino students who are just like us, fighting, enduring, and navigating through the new normal setup in education.
I remembered when our regional consortium on flexible learning was being formed and conceptualized a year ago, all of us were scrambling on where to start, what to do, and given our limited resources, how could we ensure that we would still be able to deliver the same quality of education that we have been providing to our students for the past years. And yes, we all succeeded in doing this! With that, I think all SUC Presidents here deserve a pat on the back for a job well done.
I also extend these congratulations to all the faculty members who labored and toiled twice as much to make things happen. I personally understand the struggles that you had to go through preparing for your learning guides including the radical work and operational changes that you had to go through in this pandemic. Maraming, maraming Salamat po sa inyong lahat!
And of course, to our students whom I know have also been dealing with many issues at home whether in terms of finances, internet connectivity, including other personal challenges, allow me to congratulate you as well for reaching this far, and for keeping pace with your teachers and your respective universities and colleges.
Our challenges were too many but because of our indomitable spirit, we were able to surmount the insurmountable. All it took was for us to have the right amount of courage, our unceasing faith, a huge amount of patience, persistence in our collective resolve, and our unwavering perseverance to make the world a better place for everyone even if we are now operating in a volatile, uncertain, complex and ambiguous world.
And yes, despite all the problems that we are facing now, there are still things that surely encourage us to wake in the morning, so that we too can do our fair share in helping our dear country reset, rebound, and recover from the many ill effects of the COVID-19 pandemic.
While we recognize our initial successes, we also reflect on our current vulnerabilities. We need to accept in ourselves that there are still too many things to fix in the days ahead so that we can ensure equitable access to higher education for every Filipino student. This is where CHED comes in and has been very effective for the past 27 years. Aside from implementing an ambitious free tuition policy across all state universities and colleges in the Philippines, CHED also complemented this by providing the biggest educational subsidy ever implemented in the history of Philippine higher education. To name some is the Tertiary Education Subsidy or TES, the Tulong Dunong program, and many other scholarship opportunities and grants given to our poor but deserving students.
All of us here are grateful to CHED for making all these things possible. Aside from scholarships and student subsidy programs, CHED also assisted all of us by providing learning tools and resources that we can tap during this pandemic. PASUC-8 is united in extending our sincere thanks to CHED through the outstanding leadership of our dear Chairperson, Dr. J. Prospero E. De Vera III. We also acknowledge the four equally active Commissioners of the CHED Central Office namely Dr. Lilian A. De Las Alas, Dr. Ronald L. Adamat, Dr. Perfecto A. Alibin, and Dr. Aldrin A. Darilag. Sainyo pong lahat, daghang salamat, damo nga salamat, maraming salamat po!
PASUC-8 will always be committed to being CHED's on-the-ground partner in training quality professionals who are future-ready and resilient to face the test of times. By doing this proactively, we can hopefully bring back our economy in its great shape so that together, all of us will experience the sustainable growth and development that we all deserve to get in our lifetime and even extend this to the lifetime of our own children.
Together, all of us here will work extra hard to build a new and exciting future for the Philippines. And we expect all our faculty members and students here in Eastern Visayas to share the same drive and passion that we have so that all of us will be on track in achieving greater progress for our dear region, and for our beloved country.
As I said earlier, what we are doing today is not just a celebration but this is also an attempt for collective reflection. This is the best time to help each other and lift each one up so that our home region will become more prosperous in the years to come. And PASUC-8 will accomplish this by producing quality professionals who will power up Eastern Visayas in the future.
I want to end my welcome message by leaving you with wisdom from Andrew Carnegie and I quote, "Strength is derived from unity. The range of our collective vision is far greater when individual insights become one".
I see this wisdom as our present battle cry here in PASUC-8. That all of us will continue to work together and uplift each other by complementing the strengths of one another for one great cause of quality higher education here in Region 8.
Mabuhay po ang PASUC-8, mabuhay ang CHED, at mabuhay po tayong lahat!