East-West Center commends VSU for pioneering a radio school program for high school students and teachers
Details

Written by Ulderico B. Alviola and Neil Bryan B. Fulache

Published: 08 September 2021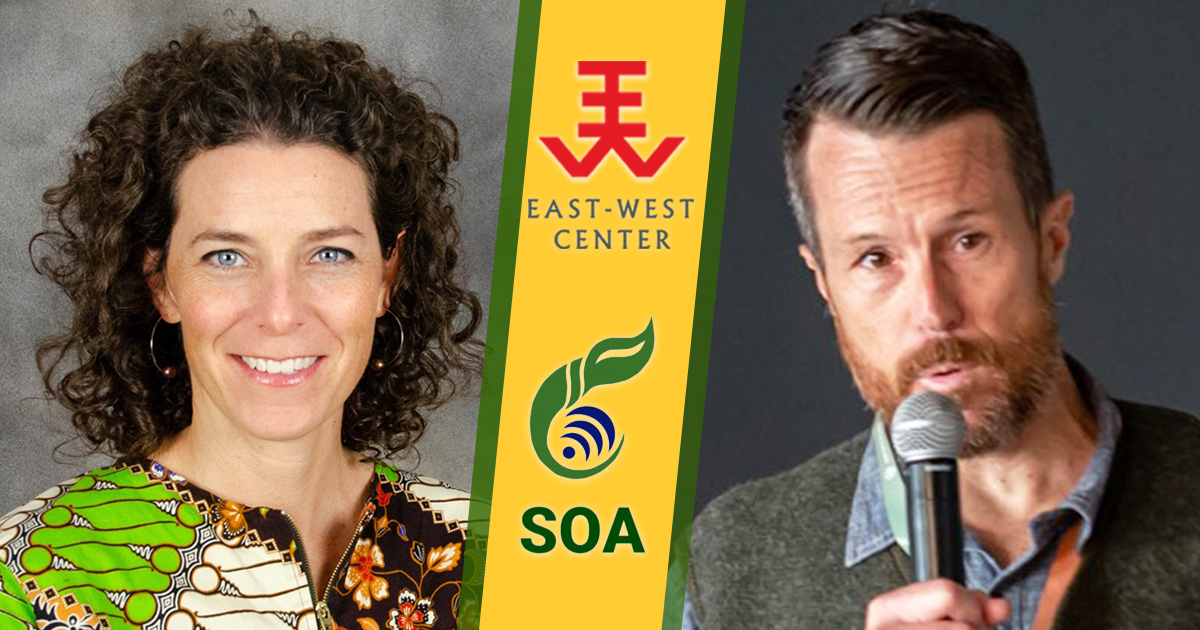 As the school-on-air (SOA) program on visual arts, mental health and the environment concludes on August 31, officials of the East-West Center (EWC) have nothing to say but praises to their local counterparts here in VSU.
Christina Monroe, EWC Director of Alumni Engagement, appreciated how the said radio school exemplified the six decade long legacy of their center in building prosperity and cooperation in the Asia-Pacific region.
"EWC's mission is such a big vision, but in fact, how it actually happens, is by exactly what you're doing. With our hearts and with our spirit, beauty, and the visual arts, bringing in our full selves to the case of creating a better community, a better internal and external world, it's very exciting to know that you're carrying on that mission as innovators, as arts innovators, as technical innovators, as environmental innovators and that is absolutely what the Philippines is known for. We need you to continue being a global leader in innovation and resilience," Monroe explained.
The EWC Alumni Engagement Director also thanked her VSU counterparts in conceptualizing and implementing the SOA program.
"I would like to thank the VSU President, Dr. Edgardo E. Tulin and Dr. Christina A. Gabrillo for their vision, for allowing such innovation, for creating a home, for watering and planting this program, that is absolutely happening there in VSU," she added.
Meanwhile, EWC Senior Specialist Lance Boyd expressed how the partnership with VSU gave depth to the Innovation for Sustainable Development Fellows, a program he founded and now a UN-recognized initiative that advances the achievement of the sustainable development goals (SDGs).
"We realized there was a need to go beyond training in professional development in Hawaii, and become partners, become supporters, become family members ideally, to co-designing, co-delivering programs that are immersed in those communities. Leveraging their expertise and their passion to support mental health, to support environmental awareness, and to help us adapt in this crisis. So that is the program that Dr. Gabrillo boldly reached out," Boyd said.
With the EWC Senior Specialist signifying his intent to develop new collaboration areas with VSU, Dr. Tulin expressed his mutual desire to conceptualize new programs that are in line with the goals of EWC.
"I have no doubt that we could continue initiating innovative programs like this. In fact, we could explore expanding this program to include more clienteles. We are open for new areas of collaboration with the East-West Center with VSU being your able partner in building resilience and environmental awareness to as many people as possible," the VSU President responded.
Radio school brought greater awareness to both students and teachers
Dr. Christina A. Gabrillo, VSU Devcom Head and the mastermind behind the SOA program was delighted to report a significant increase in knowledge across the 118 participating students and teachers especially in terms of mental health awareness, and in the basic concepts of environmental protection.
Likewise, both students and teachers have acquired practical skills in visual arts that can become effective coping strategies for mental health problems.
These new skills in the arts have also been seen as a potent tool in advocating for environmental conservation and protection among the participants' peers.
A sustainability plan was also presented by the participating Division Offices of the Department of Education (DepEd) here in Eastern Visayas. Dr. Raul Agban presented for the Baybay City Division while Dr. Liza Demeterio represented the Southern Leyte Division on behalf of Dr. Genis Murallos.
As part of incentivizing the dedication of the radio school learners, top-performing students were identified along with the top-performing teachers who also served as co-facilitators and on-the-ground coaches of the SOA program.
Southern Leyte Division dominated both the top-performing students and teachers by sweeping the top 3 awards in both categories.
For the student awardees, Mr. Al Christian P. Escol bagged the title as SOA class valedictorian followed by Mr. Angelo R. Siman, and Ms. Honelyn C. Macapagong in second and third places respectively.
For the teacher awardees, Mr. Roy S. Estrella earned the highest spot followed by Mr. Rosario Imboc, and Ms. Carmelita A. Maturan in second and third ranks.
A cumulative scoring system that took account of weekly quiz performance and the evaluation of the different art exercises were considered in choosing the top-performing students and teachers.
All awardees received a customized medal and a certificate from VSU and EWC with accompanying cash prizes of Php5,000, Php3,000, and Php2,000 for the top 3 students and teachers.
The radio school on visual arts, mental health, and the environment is a six-week training program that was mainly broadcast through VSU Radio DYDC-FM with a simulcast broadcast in Facebook via the official page of the university.
EWC funded this program and was implemented by the faculty members of the VSU Department of Development Communication (DDC). This is the second EWC project implemented by DDC with the first one about participatory production of a radio drama on disaster preparedness.