#ProudViscan is pioneering chief of the first Crop Biotechnology Center in Southeast Asia
Details

Written by Ulderico B. Alviola

Published: 08 November 2021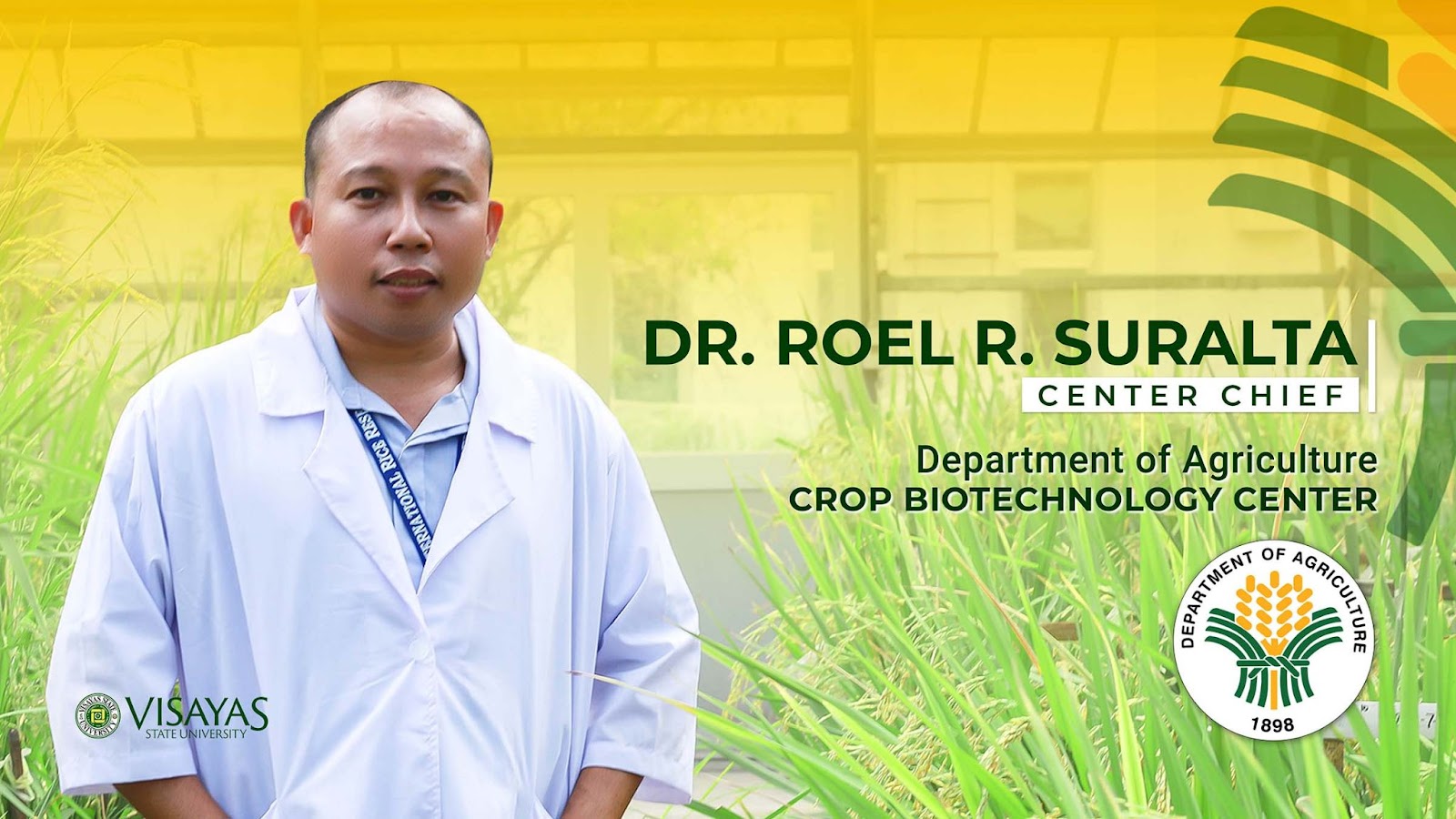 Dr. Roel R. Suralta, a graduate of Bachelor of Science in Agriculture major in Agricultural Botany in the then Visayas State College of Agriculture (now VSU) in 1994, is the first center chief of the newly inaugurated Department of Agriculture - Crop Biotechnology Center (DA-CBC).
Headquartered within the compound of the Philippine Rice Research Institute (PhilRice) located in the Science City of Muñoz in Nueva Ecija, DA-CBC is the first dedicated biotechnology research facility for crops here in Southeast Asia.
While the center is co-funded and co-supervised by PhilRice, the new center will operate as a distinct research unit under the Department of Agriculture (DA).
Presently, the DA now has three biotechnology centers that are all based in the Science City of Muñoz which include the CBC, the Fisheries Biotech Center, and another one for livestock biotechnology being operated and managed by the Philippine Carabao Center (PCC).
These three biotech centers were strategically placed near each other to allow cost-efficient facilities sharing among various research agencies that use living processes, organisms or systems to manufacture products or technology intended to improve the overall quality of human life.
A Grant from the United States
CBC was established because of a generous grant from the United States (US) government.
Through the US Food for Peace Program or the US Public Law 480, a total of 5.4 million dollars (equivalent to more than 277 million pesos) were allocated for the construction of the CBC with PhilRice providing an agency counterpart worth 25 million pesos.
Administered by the US Department of Agriculture (USDA), this foreign grant aims to assist developing countries like the Philippines to address concerns on agricultural sustainability and food security.
During the inaugural ceremony, Acting Agricultural Counselor Ryan Bedford speaking on behalf of the US EMbassy in the Philippines said that they envision the CBC as the cutting edge hub that will hopefully provide Filipinos with the tools they need in advancing research and development in agricultural biotechnology.
In response, Philippine Agriculture Secretary William D. Dar considers the CBC as one of the country's first line of defense against hunger, which is the second goal of the UN Sustainable Development Goals (SDGs).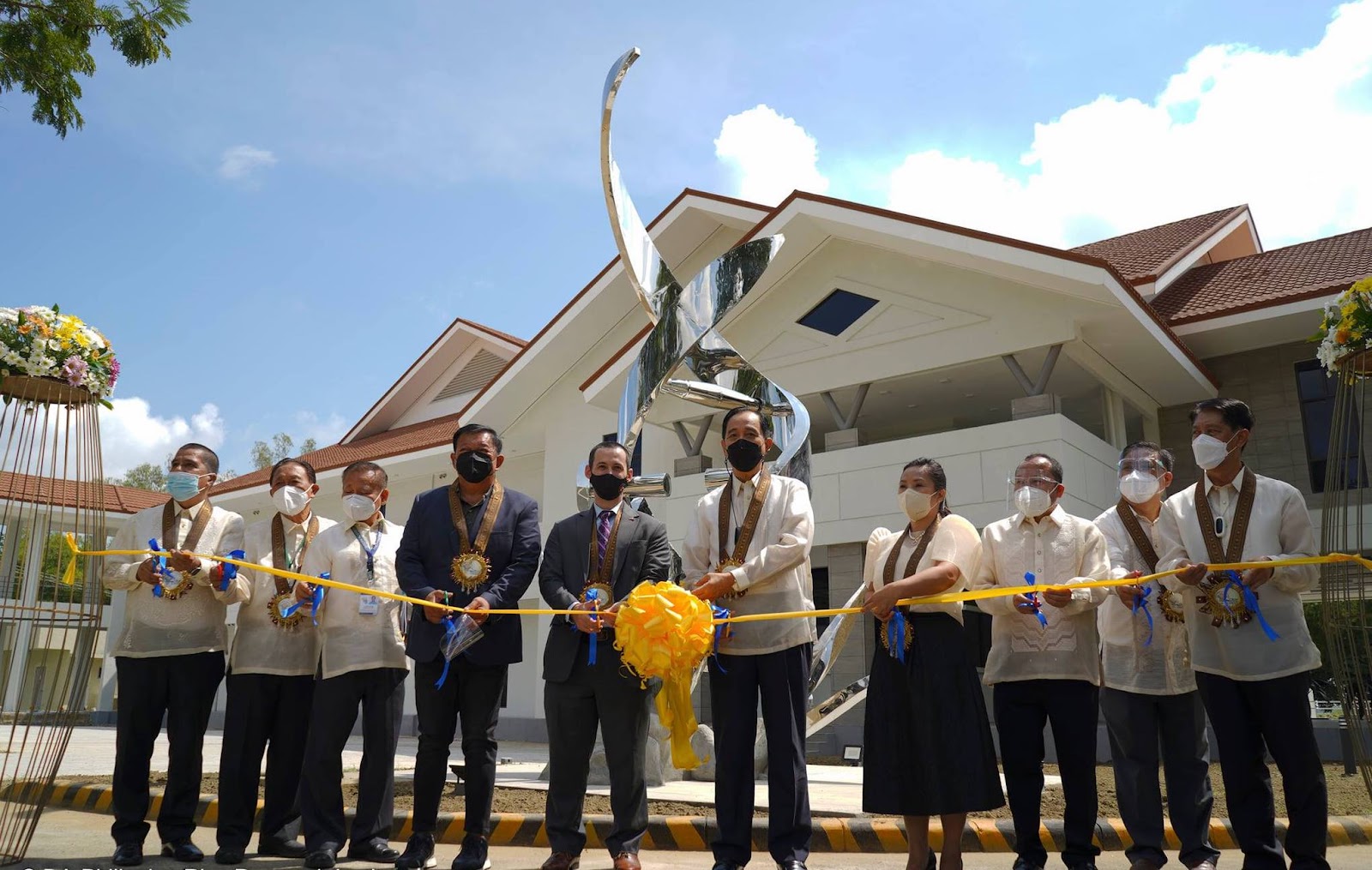 Agriculture Secretary William D. Dar and Acting Agricultural Counselor Ryan Bedford are flanked by DA and other PhilRice officials in the official inaugural ceremony of the CBC held on September 30, 2021.
Viscan at the helm of the CBC
Dr. Suralta is a multi-awarded Filipino career scientist who completed his bachelor's degree at the former ViSCA, now VSU.
He obtained his doctorate degree in Agricultural Science from Nagoya University in Japan and has been involved in various research projects in root plasticity in rice under drought conditions and other stresses brought by fluctuations in soil moisture.
He has been serving PhilRice for 23 years and has been recently accorded a Career Scientist III position by the Civil Service Commission and Department of Science of Technology - Scientific Career System. Before his appointment as CBC Chief, Dr. Suralta led the rice root research group of PhilRice in charge of conducting agronomic and physiological studies for improving climate-change resiliency of rice.
In 2013, Dr. Suralta was awarded the Presidential Lingkod Bayan Award, the highest commendation given to public servants, for uplifting the lives of Filipino rice farmers through his innovative research on root plastic development responses that influence rice productivity in areas experiencing drought.
Last year, he also obtained a back-to-back victory in the national science and technology week celebration spearheaded by the Department of Science and Technology (DOST). In this event, Dr. Suralta received the 2020 Outstanding Research and Development Award or the Eduardo A. Quisumbing Medal for Basic Research and the 2020 Outstanding Filipino Japan Society for the Promotion of Science (JSPS) Fellow in the field of Agriculture.
In an exclusive interview with Dr. Suralta emphasized the importance of crop biotechnology in stabilizing food production in the country. He said that doing so requires local scientists to have access to technologically advanced laboratories to conduct research in a much more efficient manner.
The DA-CBC Chief also shared the very mandate of the center he currently steers.
"The main task [for CBC] is to produce an output that is beneficial to the Filipino farmers, to the Filipino people, that is the most basic mandate of biotechnology. Aside from that, we also produce biotech products that are helpful in diagnosing problems directly in the field," he said.
Dr. Suralta also revealed that aside from world class amenities that include an auditorium and exhibit areas that will promote and mainstream crop biotechnology research, the CBC is now on its way to secure multi-million laboratory equipment that can match the tools used in advanced countries.
He hopes that these new equipment will complement the available tools that are already present in the other biotech centers located in the Science City of Muñoz.
"We are now in the process of buying a new gene sequencer equipment that is worth 25 million pesos which can complement the high-end biotech equipment available at the livestock biotech center of PCC, and fishery biotech center of NFRDI. With this, the government will be able to save lots of money by allowing our scientists to take advantage of these tools in one area."
With the presence of new equipment, DA-CBC is the only DA research center in the country capable of gene editing—a technology that gives scientists the ability to change an organism's DNA allowing genetic material to be added, removed or altered for the overall improvement of the crop.
DA-CBC will soon apply gene editing in different crop varieties to improve yield, pest resistance, and climate resiliency while also incorporating important nutrients needed in improving health and wellness of Filipinos. The center hopes that they can do all these at a lower production cost that will benefit low income farmers.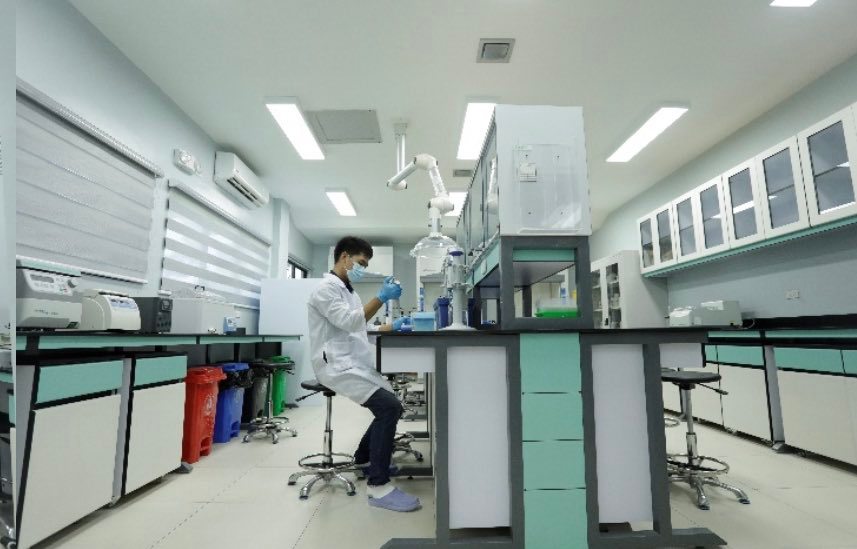 Collaborating with VSU and other research units
Dr. Suralta maintained that the CBC will also open its doors to other agencies outside of the DA family including VSU and other state universities and colleges (SUCs).
"If VSU intends to conduct advanced biotechnology not just on crops but for other commodities, you are always welcome to come here and do the studies, even if it's not directly related with crops, the equipment is just the same. This is also open to all researchers from other SUCs, all of you are always welcome in CBC so that together, we can push for the advancement of biotech practice here in the country," he said.
Dr. Suralta continued by citing some VSU research centers such as the Philippine Root Crop Research and Training Center (PhilRootcrops), National Abaca Research Center (NARC), and the National Coconut Research Center (NCRC), that CBC will willingly help to provide access to cutting edge tools that will increase scientific productivity of Filipino researchers.
"I personally know that we have capable scientists and researchers from different parts of the country including in VSU who will be interested in what our center can offer. I'm very excited to work with them so that we can take advantage of this new facility that we have just inaugurated," the CBC Chief concluded.
ankara escort çankaya escort ankara escort çankaya escort escort ankara çankaya escort escort bayan çankaya istanbul rus escort eryaman escort escort bayan ankara ankara escort kızılay escort istanbul escort ankara escort ankara rus escort escort çankaya ankara escort bayan istanbul rus Escort atasehir Escort beylikduzu Escort Ankara Escort malatya Escort kuşadası Escort gaziantep Escort izmir Escort