43rd VSU Villaba Commencement Speech of Hon. Anna Veloso Tuazon
Details

Published: 05 August 2022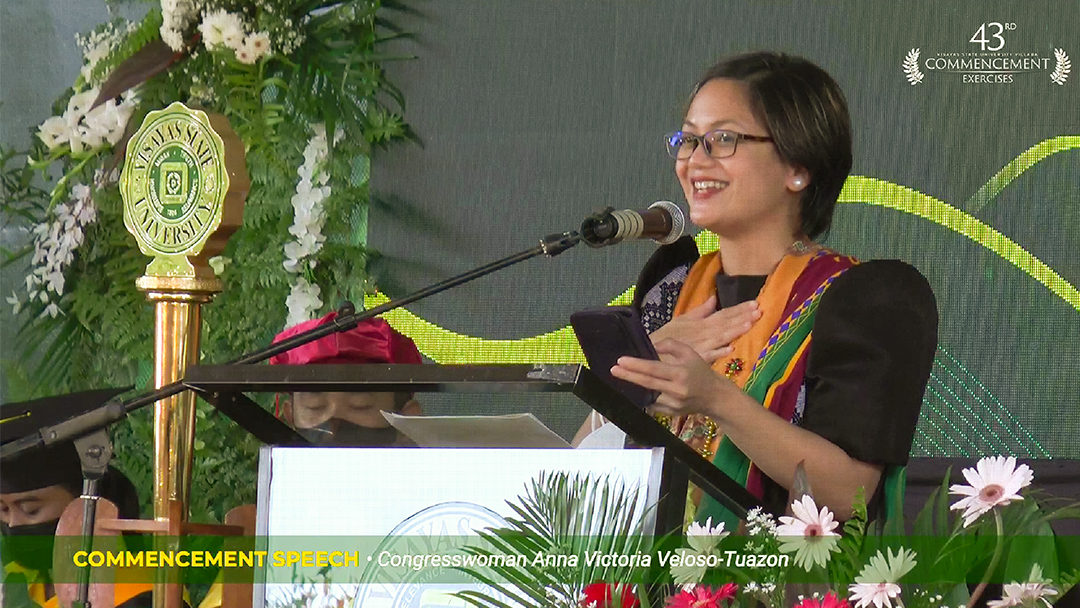 Father Isagani Petillos, Mayor Lito Veloso, Senator Mark Villar through his representative, Dr. Edgardo Tulin, Dr. Maria Jehann Libre, Dr. Merlita Veloso, Dr. Gerald Monsanto, VSU faculty members of the graduating class, parents, teachers, distinguished colleagues in the service, ladies, gentlemen, and friends, thank you for inviting me to speak before you today.
I am deeply honored and grateful for the opportunity to congratulate our graduating class, in person, for having reached an important milestone.
Your newly conferred degrees in secondary education, elementary education, agriculture, and agricultural science, and the respective fields you chose to major in—math, english, science, biological science, agronomy, and animal science—have given you the tools that you need to further your career, and that our community needs to create a vibrant and inclusive economy.
Through your respective areas of expertise, you will go on to sow seeds of hope and empowerment, make a name for yourself, and in doing so, be our culture bearers, spotlighting what is core and distinct about our town, our district, our province, our country.
True, there is much to be apprehensive about as you will formally enter the workforce during one of the toughest economic periods in the history of our country. But we are Leyteños, we are Filipinos, we have faced odds greater than this, and we know we will get through this together.
With the global population having undergone a major rethink in the way business is run, and with investments being channeled towards greater intentionality and conscientiousness, there will be much room for innovation and creativity around your respective spheres of competence. It will not be easy, but it will take you further along the path to becoming the best person you can be.
During my own college graduation 23 years ago, our commencement speaker urged us to pursue excellence, because of the great good that arises from a community that encourages its members to realize their full potential and do their best.
In your quest of mastery, you will invariably encounter the terror of the blank page; seize that opportunity of blankness to prove your worth. Let it propel you, let the rigor and discipline of honing your craft teach you the value of grit and endurance.
As you write your own story (and our story within it), remember to tap into your childlike wonder, and let it guide you to see past blind spots and innovate.
As horizons shift and opportunities open up for you, as you find your efforts rewarded, do remember to hold onto the values on which our communities are built.
Champion and practice the values that underscore our work ethic, and that we look for in the people we trust and the organizations we join: honesty, integrity, fairness, responsibility, duty, loyalty, merit. Values that mirror to the world who we are, what we care about, what makes us tick.
The journey of self-awareness is a life-long one, but it provides you with a better grasp of what lights you from within, what you can commit to, and where your grit can take you.
As the philosopher Emmanuel Levinas has posited, "we find ourselves in the Other". The Other being our family, our community, our province, our country, humanity, all with faces and stories that have become real to us. And so I echo the call of one very inspiring educator Sabrina Ongkiko: "Kapag nakaka-angat ka na, gamitin ang talino at talento para iangat ang iba".
Surviving and recovering from this pandemic and our economic crisis will require intense collaboration and partnership. More than ever, we need to leverage networks to amplify impact. We will need to be able to count on each other, be responsible for each other and our environment, and harness our potential and resources in a sustainable manner, to help our communities survive and thrive.
We need to be the change we want to see in the world. In all things, we can choose to be part of the solution.
It has been said that if we want to go far, we must go together. As we carry on transforming and making a difference to provide our loved ones with the quality of life and sense of community that we aspire to give our children, let us work hard to create a culture of moral integrity in which people feel safe, seen, heard, and respected.
My heartfelt congratulations and prayers go with you as you enter this next phase of realizing your full potential.
God bless you with the courage, grace and wisdom you need as you grow to be all you were meant to be. We wish you every success in your endeavors.
[The live event of the 43rd Commencement Exercises of VSU Villaba can be replayed here: https://fb.watch/eIgD9Gq_Gh/.]