Two #ProudViscans landed 8th and 10th places in the recent teacher's board
Details

Written by Marianne C. Bayron

Published: 30 January 2023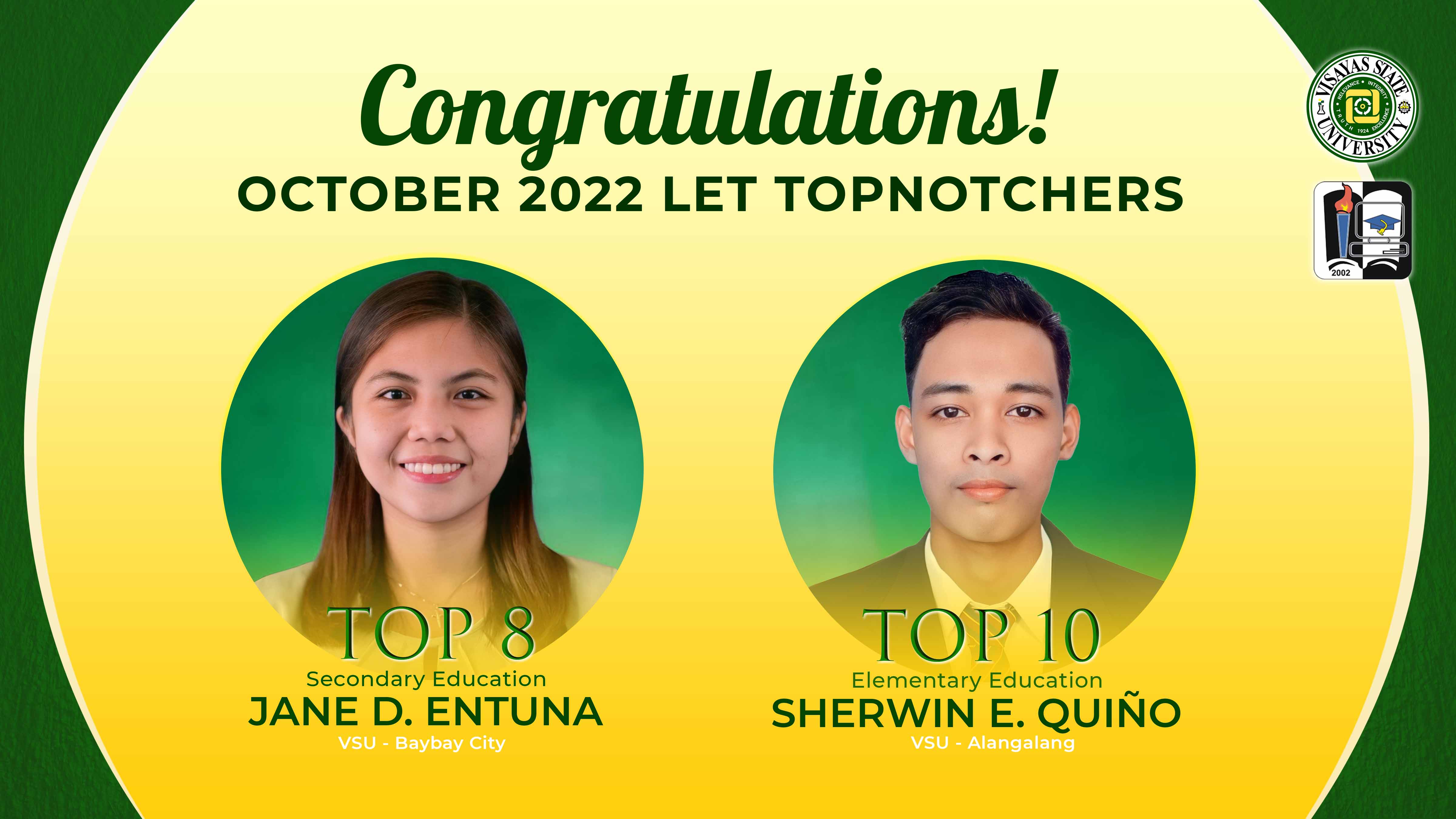 VSU flag has been raised once more as two #ProudViscans joined the club of the Viscan board topnotchers for this school year.
Jane D. Entuna and Sherwin E. Quiño made it to the top 10 cut in the October 2022 Licensure Examination for Teachers (LET), wherein Entuna landed 8th in the secondary level and Quiño placed 10th in the elementary level.
Entuna garnered a rating of 92.80% sharing the same spot with 12 other passers, while Quiño earned a score of 92.60% sharing a similar rank with 21 other successful examinees in the country.
In total, the whole VSU system produced 406 elementary teachers and 405 secondary teachers from the flagship and component campuses.
With more Viscan graduates raising the banner of excellence and VSU raising the cash incentives for topnotchers, one more important thing is to know how these #ProudViscans set the bar high.
Let's find out how these two 23-year-old topnotchers ace the board exam for teachers and how they share the same perspectives and preparation including their felt struggles and pressure before acing the LET.
The back-to-back board topnotcher
Entuna twice aced different board exams. She hails from Manhilo, Maasin City, Southern Leyte, and is a graduate of the Animal Science degree program, Cum Laude in 2019. slot gacor deposit via pulsa
In the same year, she took the agricultural licensure exam and also landed 8th together with a fellow Viscan, Malvin B. Datan who placed 10th, respectively.
Albeit landing on a different path after finishing her undergraduate degree, Entuna found an unfamiliar department that eventually became her new home.
As part of her chosen return of service as one of the scholars of the Department of Science and Technology (DOST), she is currently working as a Special Science Teacher 1 at Manhilo National High School.
With no background in the education discipline, admittingly, she struggled right before achieving her spot in LET.
In 2021, she enrolled at Saint Joseph College (SJC) of Maasin and took the required 18 units in Professional Education (Prof. Ed.) to be permitted to take the board exam.
However, after getting the required units, another challenge came her way.
She found out that reviewing for the LET all by herself is difficult compared to how she relied on her self-review and stock knowledge for the LEA (Licensure Examination for Agriculturists).
To help her prepare for the LET, on March 28, 2022, she enrolled at the Falculan Twins' Review Center (FTRC). She juggled between preparing for her lessons every day and going to classes for her review that lasts up to 4 hours every night.
The typical student to a board topnotcher
Quiño, on the other hand, is a dreamer of becoming a LET passer. He lives in Ekiran, Alangalang, Leyte with a degree in Elementary Education that he earned in 2021.
Having no idea of topping the board exam, he just did his best and prepared himself mentally, psychologically, and physiologically for LET.
He recalled that he was just a regular student in college and only hoped to graduate, get his diploma, and help his family. main slot gratis paling menguntungkan
After getting his degree, he didn't take the board exam right away but instead worked in Manila.
When he decided to come home and prepare for the board exam, he enrolled in Carl Balita Review Center (CBRC) in July 2022. After passing the LET, he is now working as a lecturer in the same review center where he did his review.
He emphasized that one does not have to be intelligent to ace the board exam, but to be wise in planning for the review and knowing the right study techniques that work for you.
How to ace the board exam for professional teachers?
Despite their different struggles, both Entuna and Quiño agreed that setting a review timeline, practicing to answer board exam questions, and praying were the three essential things to do in preparing and acing the LET.
1. Set a goal and plan a study schedule.
"Determine what your goal is. If you want to top the board exam, obviously you double your effort to achieve it. For instance, on this day you focus the topic on Prof. Ed. Then the next day you study other topics. At least you get to organize what you will be reviewing," Entuna said. slot deposit pulsa tanpa potongan
"You need to always plan for your review schedule. And you have to manage it for you to stop procrastinating," Quiño stressed. bonus deposit slot online
2. Prepare the review materials and practice answering board exam questions.
Both Entuna and Quiño considered enrolling in a review center a helpful step for preparing for the LET. Aside from the review center, the kind of review materials to use and the practice of answering the LET questions are also things to keep in mind. Agen Slot Online Terpercaya
"Read as many books as you can. For my part, I read more or less 20 books from reliable sources per day. Aside from reading, I target to answer at least 1000 LET questions every day as part of my preparation for the board exam," Quiño revealed. informasi situs slot gacor hari ini
"Part of my preparation is always answering multiple choice questions. The actual board exam is a multiple-choice type of question. They told us that the best clue stems from the question itself. For me to find the clue and get used to it, I practice a lot of answering board exam questions. Aside from that, I also practice proper shading, because, in the actual exam, proper shading takes time," Entuna disclosed. slot gacor online server kamboja
3. Pray for guidance and consolation.
Entuna revealed that she was consumed by pressure due to the uncertainty of the LET results. She was discouraged and decided not to proceed to take the board exam because she couldn't keep up with her scores during her review classes.
"The most important thing is to pray. You need to ask God to guide you in your journey. If you pray, it gives you comfort and solace. It is the right thing to always pray. When I was preparing for the LET, I was pressured because, in my previous exam, I was top 8th, and I wondered what my fate in LET will be. Luckily, I have a friend who never ceases to encourage and motivate me to continue," she highlighted.
As for Quiño, he believed that prayer can really move mountains.
"When I found out I was one of the topnotchers, I couldn't believe it. I'm telling God, why me? Among the many takers, I was one of the topnotchers. But then I realized, I deserve this. It's because I worked hard for this," he noted.
Both Entuna and Quiño are grateful to their family, friends, and loved ones for their undying support and love. And they also attributed their success to VSU, in one way or another helping them achieve their goals in life.
"To my Alma Mater, VSU Alangalang, to the whole VSU, to my instructors and professors, I'm so grateful to be a Viscan," Quiño said.
"Although my training in VSU did not help much in Prof. Ed., the strong foundation I have in my major was truly an advantage in the General Education (Gen. Ed.)," Entuna concluded.
While Quiño is planning to become an instructor at VSU Alangalang in the future, for now, he wants to become a skilled lecturer at CBRC and hopes to inspire and motivate more aspiring LET takers.
Entuna, on the other side, will pursue graduate studies in line with the education field. From giving honor to the Department of Animal Science (DAS) as their first-ever topnotcher, she now hopes to be a role model and inspire her students in the Department of Education (DepEd) to do well in their respective studies.