VSU soars by 9 places in EduRank, now top 14 university in the Philippines
Details

Written by Ulderico B. Alviola

Published: 02 May 2023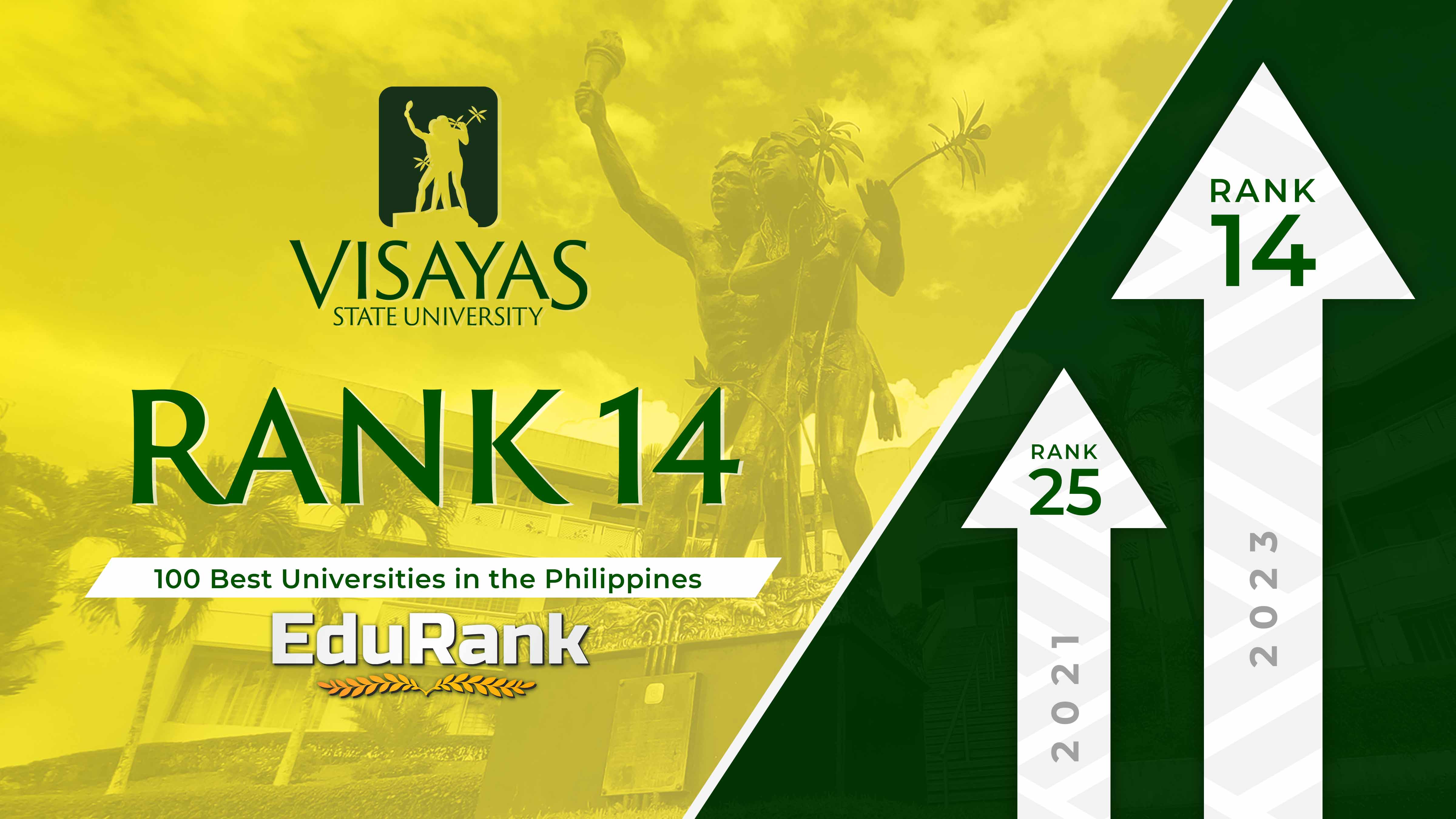 After making its debut in EduRank in July 2021 and successfully obtaining the 25th spot, the Visayas State University climbs 9 steps higher in this independent metric-based ranking system that analyzed 14,131 universities from across 183 countries worldwide.
Now conveniently positioned at the 14th spot in the 2023 edition of EduRank, VSU's rise has been consistent in many emerging assessment systems with some even placing it within the top 10 elite circles of universities and colleges within the country.
While still the undisputed best university in the Eastern Visayas region, VSU's 2023 EduRank performance is also interestingly impressive at the global level by placing 1,979th in Asia and occupying the 5,426th spot in the world.
EduRank's current methodology has been radically changed from its 2021 version which solely relied on a unique social media algorithm that analyzes engagement for each sector through an institution's social media performance.
According to their website, the final overall score given to each university or college was based on 3 things: (1) Research Performance that constituted 45% coming from the Microsoft Academic Database of scientific publications; (2) Non-Academic Prominence still at 45% obtained from Ahrefs, which is a Search Engine Optimization (SEO) tool that calculates the reputation of individual web pages like backlinks to a university from other sites; and (3) Alumni Score that consisted 10% of the overall score taken from the number of page views that a university's graduates and other affiliated individuals have on all 43 language versions of Wikipedia.
The proponents of EduRank argue that while their ranking system only uses 3 sets of indicators, each is complex enough and is already a good predictor of a university's position that meets their basic requirements for sustainability against manipulation.
Globally, the United States dominated this year's edition of EduRank with 8 American universities included in the top 10 circle. Harvard University topped the global rankings followed by Stanford University, University of Michigan - Ann Arbor, Massachusetts Institute of Technology, and University of California - Berkeley. Surprisingly, the University of Tokyo is the only Asian university to be included in the top 50 list.
Meanwhile, in the Philippines, the country's big 4 universities occupied the highest places with the University of the Philippines Diliman at the top followed by De La Salle University, Ateneo De Manila University, and University of Santo Tomas.
In Region 8, only three other universities joined VSU in the top 100 list with Samar State University at number 48th, Leyte Normal University at rank 58th, and University of Eastern Philippines at 73rd spot.
VSU President Edgardo E. Tulin commended VSU's consistent improvement in different independent ranking systems.
"The meteoric rise of our overall ranking whether in EduRank, UniRank, Webometrics, or Ad Scientific Index is a testament to our ever-improving reputation as one of the country's best academic institutions. I'm glad that people from all over the Philippines are starting to notice us and this is a great opportunity for us to invite the best and the brightest students from different parts of the country to enroll at our beloved institution," Dr. Tulin remarked.
The VSU President also challenged all #ProudViscans to work together in pushing for higher rankings for VSU as the university draws closer to its centennial anniversary in 2024.