#ProudViscans: Get to know the top 3 honor students of #VSUGrad2023
Details

Written by Marianne C. Bayron

Published: 01 August 2023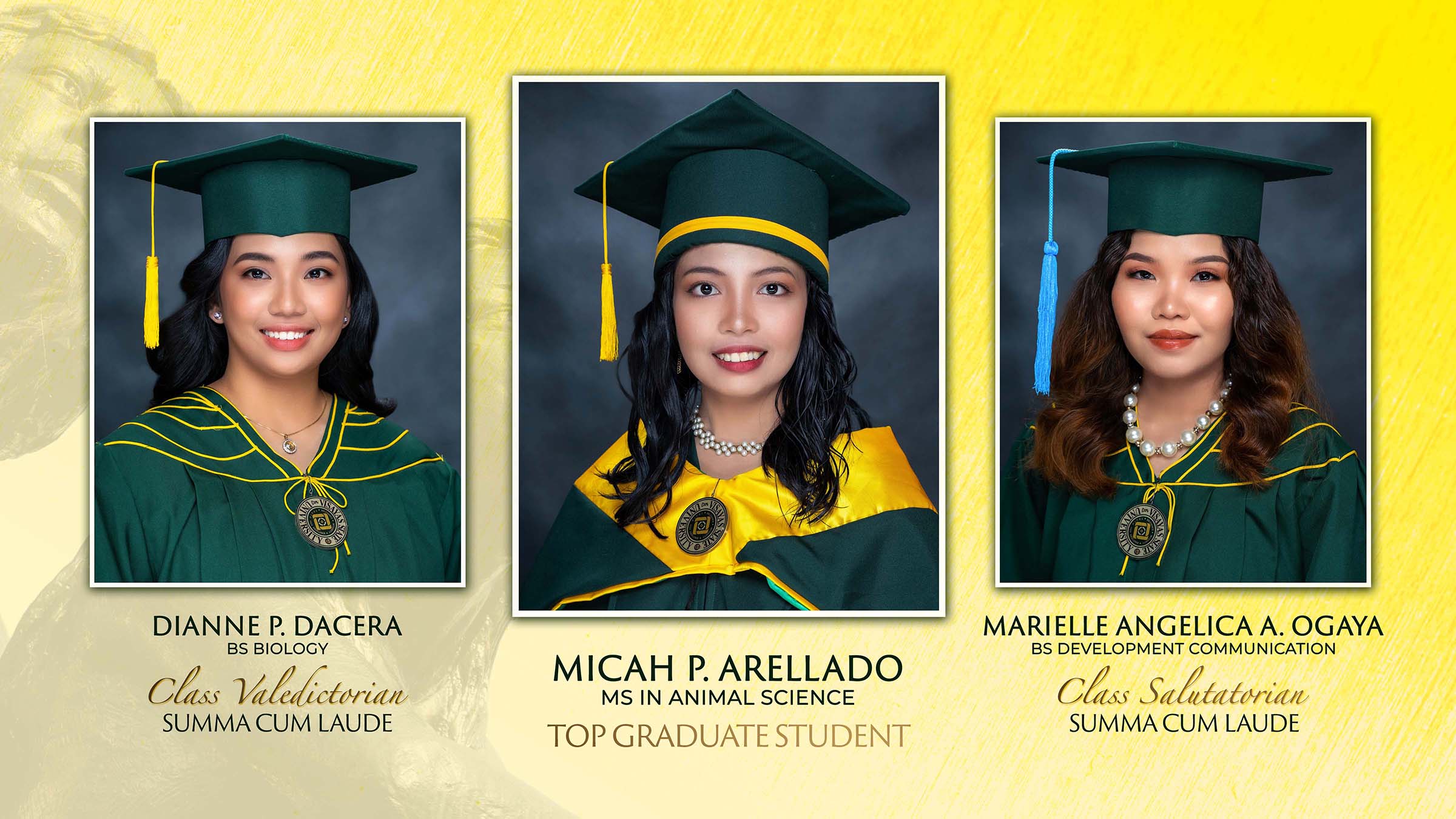 It is #VSUGrad season once again and Visayas State University (VSU) is delighted to feature the inspirational stories of the two Summa Cum Laude and a top graduate student in the class of 2023.
Following the weeklong commencement exercises of the VSU VITA Campuses namely Villaba, Isabel, Tolosa, and Alangalang, the VSU Main Campus in Baybay City will hold its 70th graduation ceremony on August 3, 2023, at the VSU Upper Oval.
This year, VSU has produced a total of 380 Latin Honors, with 327 Cum Laude, 51 Magna Cum Laude, and of course, the 2 Summa Cum Laude.
The 2023 Class Valedictorian
Meet this year's class valedictorian from the Department of Biology, Dianne P. Dacera. She hails from Baybay City and will lead the class of 2023 after obtaining the highest grade point average (GPA) of 1.15 besting the other 1,344 graduates of VSU.
Dacera is VSU's 13th Summa Cum Laude, who majors in Zoology. She is a scholar of the Department of Science and Technology - Science Education Insitute (DOST-SEI) under the Merit Scholarship, which is offered to students who are excellent in science and mathematics and who show passion to pursue careers in the science and technology disciplines.
The class valedictorian revealed that she is already giving her best since freshman year. Although she did not expect to be accorded the highest academic distinction, she has already worked her way through, which makes her deserving of the award.
"To those who are aiming to graduate with Latin Honors, plan and start early. What I mean by this is to give your all even at the start of your college life. In my case, I was already collecting flat 1.00s and calculated my grades during my first year. And, to those who are already in their third or fourth year, try estimating your grades and see if you can still make it to the cut-off. Do not be discouraged if you are not satisfied with your performance or grade but take it as a challenge to strive harder and make 'bawi'. Endure and 'laban lang'," Dacera shared.
The overwhelming news of her achievement also made her doubt herself if she could live up to the expectations of people.
"Many would expect that I feel proud of myself. Yes, of course, I am. But, I am also very overwhelmed by the sudden surge of attention focused on me as I became the class valedictorian. There is also this fear that I may not be up to the standards because if you know me personally, I might be the most loading and 'tanga' in the friend group. Nonetheless, I am very happy with how far I've come. And, I am also very honored that this achievement of mine makes the people around me proud. Not just proud of me, but also themselves. Because, one way or another, they had contributed to this success, and I represent them. I am very grateful to the people who supported me to get me where I am today," the class valedictorian mentioned.
The 2023 Class Salutatorian
The other Summa Cum Laude of VSU is from the Department of Development Communication (DDC). For two consecutive years, the department has been able to produce another Summa Cum Laude. This year, it is Marielle Angelica A. Ogaya from Mercedes, Eastern Samar. She is also the very active editor-in-chief of the official student publication of VSU, the Amaranth.
Ogaya got a total GPA of 1.19 only 4 steps away from the GPA of the class valedictorian. Despite juggling her studies with her role in the publication, Marielle managed to excel in her academics.
For her, she had enjoyed working in the best publication with her equally talented and supportive staff.
"Joining Amaranth was never a plan, and more so, leading the best media organization in the region was something I did not expect. It was scary for a little while, but it was never tiring because working with creative and talented people who shared the same goals made it bearable, even if I had to juggle my academics. I had so much fun being in Amaranth that it never got in my way or distracted me in my studies. The pub and all the staff I have worked with have been one of my support systems, and I could not be prouder and grateful for them," Ogaya revealed.
Albeit feeling overwhelmed, the class salutatorian is excited to enter a new chapter of her life carrying the things she learned from her degree program.
"There are no words to measure how the past few days have been overwhelming, but I am immensely grateful and excited. Grateful that I came to this very unexpected era of my life grounded by a constant cycle of learning and failing. I am also excited about where would life take me, and discover new things about myself on how I can still uphold the values I learned from my degree in whatever professional career I take," the DevCom Summa Cum Laude added.
Ogaya's advice to fellow Viscans who wish to ace their bachelor's degree is to work on their own and be resourceful enough to acquire deeper knowledge of the subjects.
"There were a lot of things I have not figured out when I entered college. But as frustrating as it was, it was the most rewarding. Like reading thousands of pages of communication theories and realizing that reading was not enough to comprehend the topics, I had to take other thousands of ways to fully understood those. Enjoy the process of learning and failing. There will be many highs and lows, and sometimes you'd feel like you are one step forward and two steps backward, but take those as stepping stones to improve yourself. And this perhaps, is the best thing about being in college and wanting to graduate with Latin Honors: you are responsible for yourself," she said.
The 2023 top graduate student
This year's top graduate student is Micah P. Arellado from Barangay Licu-an, Dingle, Iloilo. She earned a GPA of 1.20 for her master's degree in animal science with a minor in agricultural economics. She is a DOST scholar under the Accelerated Science Technology Human Resource Development Program (ASTHRDP), a scholarship program for graduate students.
Arellado is an alumna of the Iloilo State University of Fisheries Science and Technology - Dingle Campus for her bachelor's degree in agriculture majoring in animal science.
Her reason for pursuing her master's at VSU is to be trained in one of the country's renowned agriculture universities and to break the stigma of treating agriculture as an underrated field among the youth.
"It is ironic, but agriculture-related courses are the least favorite among the younger generations in an agricultural country like the Philippines. Workers in this sector are usually stereotyped as less educated and poor people. I also held that belief until I met a mentor who helped me realize the value of agriculture in our society. I wanted to be that kind of mentor who has the power to open the hearts and minds of their students, but I still needed to gain many things before I could do that. Moreover, breaking the stigma around agriculture is a challenging job. That inspired me to start my graduate study journey with one of our country's leading universities in the field of agriculture - Visayas State University," the top graduate student explained.
She added that she is proud to call herself a #ProudViscan instilling the value of excellence within her wherever she may go.
"The moment I stepped inside the centennial gates of Visayas State University, I know that I'll be sailing in an ocean filled with brilliant minds. Thus, it was a great honor to receive this kind of recognition. At the same time, along with this privilege comes a great responsibility. Whatever voyage I decide to sail, I will always be known as a Viscan and this motivates me to continue striving for excellence in my future endeavors," Arellado said.
Arellado thanked VSU especially the professors and instructors who guided her all throughout her master's journey.
"I want to thank the Visayas State University for giving me this opportunity to be a part of the Viscan family; my Graduate Advisory Committee (GAC), Sir Michael Dominic Garrido and Dr. Moises Neil Seriño, especially my GAC adviser, Dr. Manuel Gacutan Jr., whose constant encouragement and unwavering belief in my potential motivated me to persevere and overcome challenges in this academic journey and my support system - family, friends, and mentors, who have played a vital role in this achievement. Lastly, I dedicate this to all the Filipino taxpayers who financed my education for six years through the DOST-SEI Scholarship program. I will always uphold the Iskolar ng Bayan's virtue of 'serving the least, the last, and the lost'," the top graduate student highlighted.
Both Summa Cum Laude offered their thanksgiving to God and their family and friends who were behind their respective successes.
"Of all the days I thought I would not make it this far, the Lord gave me many gifts and graces to continue and make everything worthwhile. My family for always being my constant - believing, trusting, and understanding that I can do things I aspire to. And my friends who in any possible ways helped my college journey bearable," the class salutatorian noted.
For Dacera, aside from her family and friends, she would also like to extend gratitude to herself, who did well in her studies.
"A lot of times when asked this question, I would answer that I am grateful to my family and friends or the Almighty God. And, yes, I really am beyond grateful to my family and the Lord. This is all through my family's support and His grace. But, I realized that I had forgotten to thank myself. So this time, I would like to send my gratitude to myself. Thank you, Yan. You did it and did it well. Congratulations. I am very proud of you," the class valedictorian concluded.
The three of them along with the 378 Latin Honors will be awarded during the President's Tribute to the Honor Graduates that will happen on August 2, 2023, at the VSU Gymnasium.