#GoingGlobal: AnSci faculty joins bioinformatics training in Thailand
Details

Written by Marianne C. Bayron

Published: 09 August 2023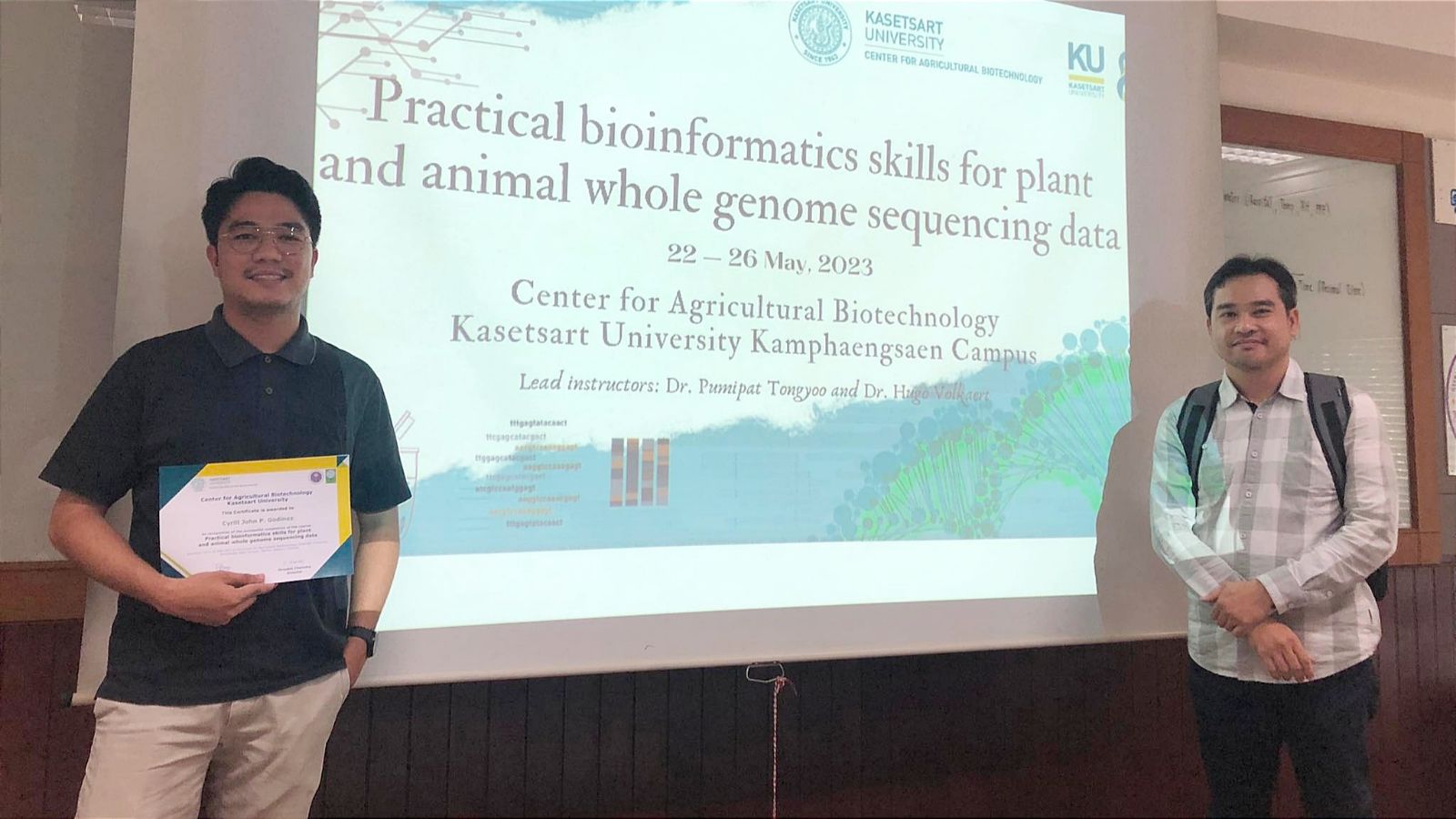 Cyrill John Godinez, Ph.D. faculty-researcher of the VSU Department of Animal Science (DAS) is the lone #ProudViscan who attended the international training on bioinformatics in Thailand which is a modern tool to collect and analyze whole genome sequencing data (WGS) or the complete genetic make-up of plants and animals.
This training was organized by the Center for Agricultural Biotechnology (CAB) at Kasetsart University from May 22 to 26, 2023.
Dr. Godinez is one of the four Filipino delegates who was supported by the Leveling-Up Philippine Higher Education Institutions in Agriculture, Fisheries and Natural Resources (LevelUPHEI AFAR) grant from the Southeast Asian Regional Center for Graduate Study and Research in Agriculture (SEARCA).
The said event was participated by 18 faculty members and researchers from public and private sectors in our country, Indonesia, and Thailand.
According to SEARCA, the whole training encompasses bioinformatics workflow from data acquisition to its application in plant and animal breeding and conservation research.
"The said training largely deals with the bioinformatics workflow (i.e., data preprocessing to data analysis) from genome data quality control (assessing the quality of the raw sequencing data), genome assembly, read mapping, variant calling (the process of identifying differences between the sequenced genome and the reference genome), variant filtering and annotation, and genome data analysis. These processes involve bioinformatics tools or pipelines in each workflow," Dr. Godinez said.
He added that it has hands-on training on how to use the command-line software for participants who shared an interest in the genomic analysis of plant and animal WGS data but with little experience using the technology.
"The training focuses on practical skills in bioinformatics, which is a rapidly growing field that has revolutionized the way we study biology. In my case, the benefit of taking part in this training was that it gave me new, useful knowledge of how to use bioinformatics tools to identify variants in farm animals that are associated with disease resistance, adaptability, production traits, and other important traits of our diverse animal genetic resources. This has helped us understand how organisms have adapted to their environment and how genes contribute to complex traits," he shared.
With this training, Dr. Godinez brought home the knowledge on bioinformatics tools that VSU, especially its home department can benefit from in improving the study of genomic sequencing for animals that will be beneficial to detect or track genetic disorders just to name a few.
Another conference in South Africa
Aside from this international training, Dr. Godinez presented his dissertation during the 39th International Society for Animal Genetics Conference (ISAG 2023) in Cape Town, South Africa which happened from July 2 to 7, 2023.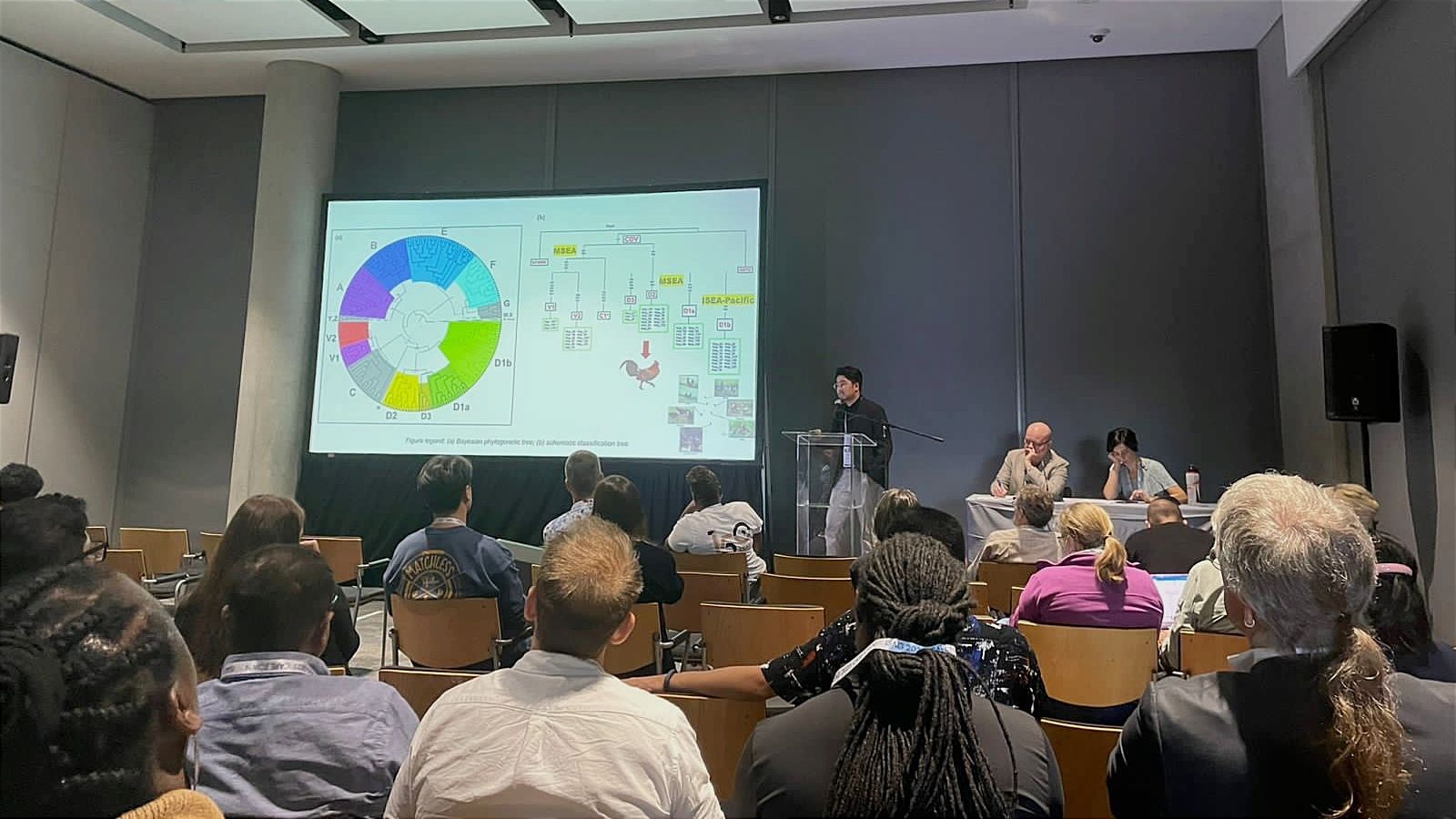 ISAG is internationally the largest and most well-participated scientific congress in the field of animal genetics. It is a scientific society that provides a forum for the exchange of new knowledge and up-to-date research outputs in animal genetics.
"I am very thankful to ISAG and the International Foundation for Animal Genetics (IFAG) for selecting me as one of this year's Travel Bursary Awardees to attend the 2023 Conference in Cape Town, South Africa," he added.
There are three types of travel bursaries offered by ISAG to support participants in attending the conference, these are student bursaries, early career bursaries, and developing country bursaries. Dr. Godinez was granted the early career bursary which is intended only to active scientists who have received a master's or PhD within the last five years. With this assistance, his travel expenses were all covered and the conference fee was covered by half.
Around 600 scientists and researchers from all over the world attended the ISAG Conference.
Dr. Godinez presented his dissertation output both in oral and poster presentations under the ISAG-FAO Advisory Group on Animal Genetic Diversity, just one out of twenty workshops in concurrent sessions.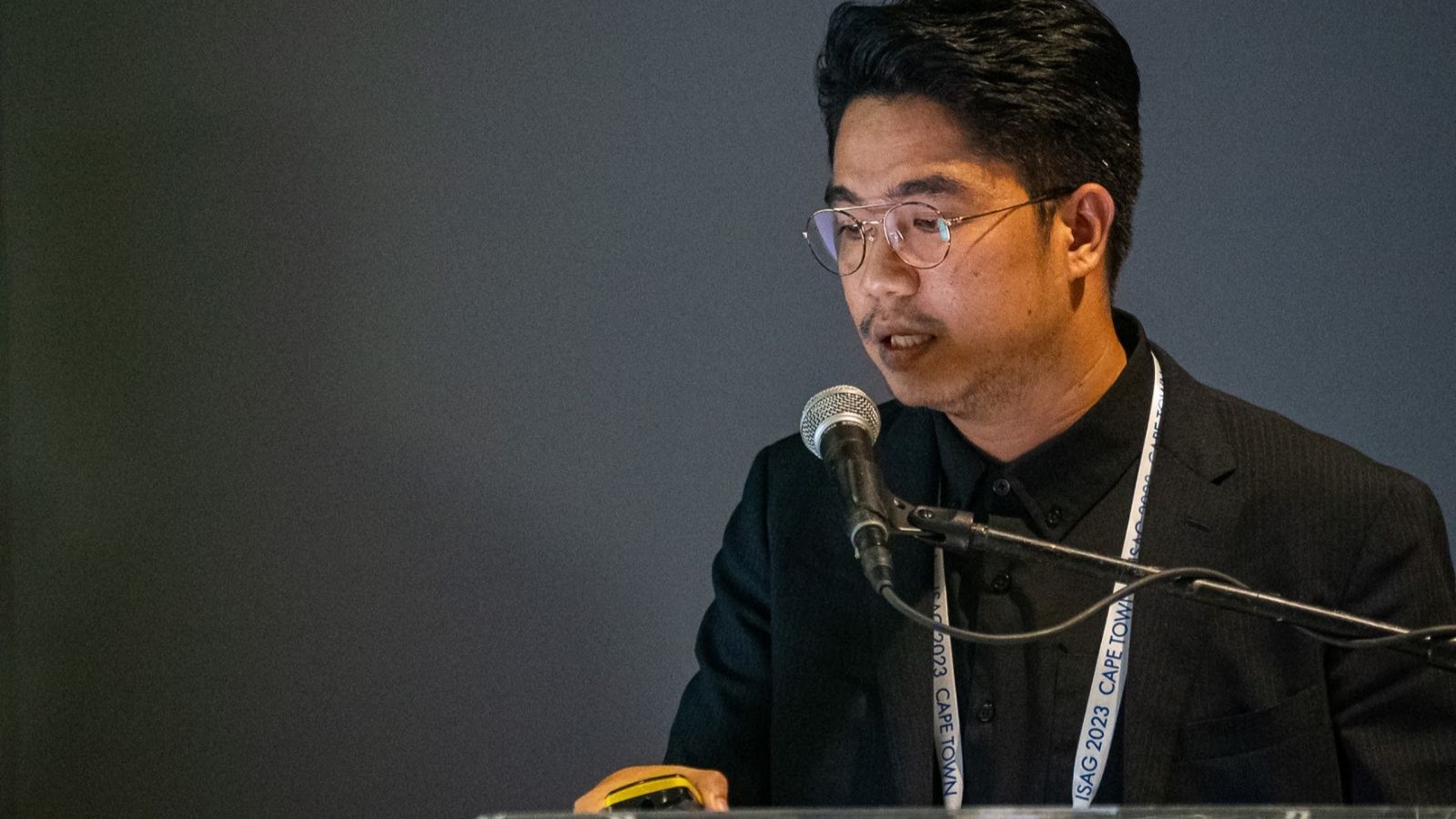 "The experience is overwhelming, and the opportunity to meet new potential collaborators is a plus," he shared.
According to Dr. Godinez, the conference opened up fruitful discussions with his collaborator from the Chicken Genomic Diversity Consortium (CGDC), where they represent the diverse chicken resources in the Philippines in the global chicken genomic diversity study.
He mentioned that he was thankful for the opportunity given to him by the university.
"Of course, I am very grateful for the continuous support of Visayas State University and the Department of Animal Science, College of Agriculture and Food Science, for making my attendance in this year's ISAG possible, in the hope of establishing more potential research collaborations," the AnSci instructor concluded.
Dr. Godinez is set to return to Hiroshima University, Japan in September, the same university where he finished his doctor's degree. He will be going to give a talk in a Summer School Program, and he will also be conferred with the 2023 Awardee of the Dimitris N. Chorafas Foundation. This is an award given to doctoral students in engineering, medicine, and natural sciences with outstanding research work at partner universities in Europe, North America, and Asia.