#ProudViscan: Dennis De Paz sowed the culture of research at EVSU. Now he is its newest president.
Details

Written by Aura Shaznay Tumulak & Ulderico Alviola

Published: 03 June 2021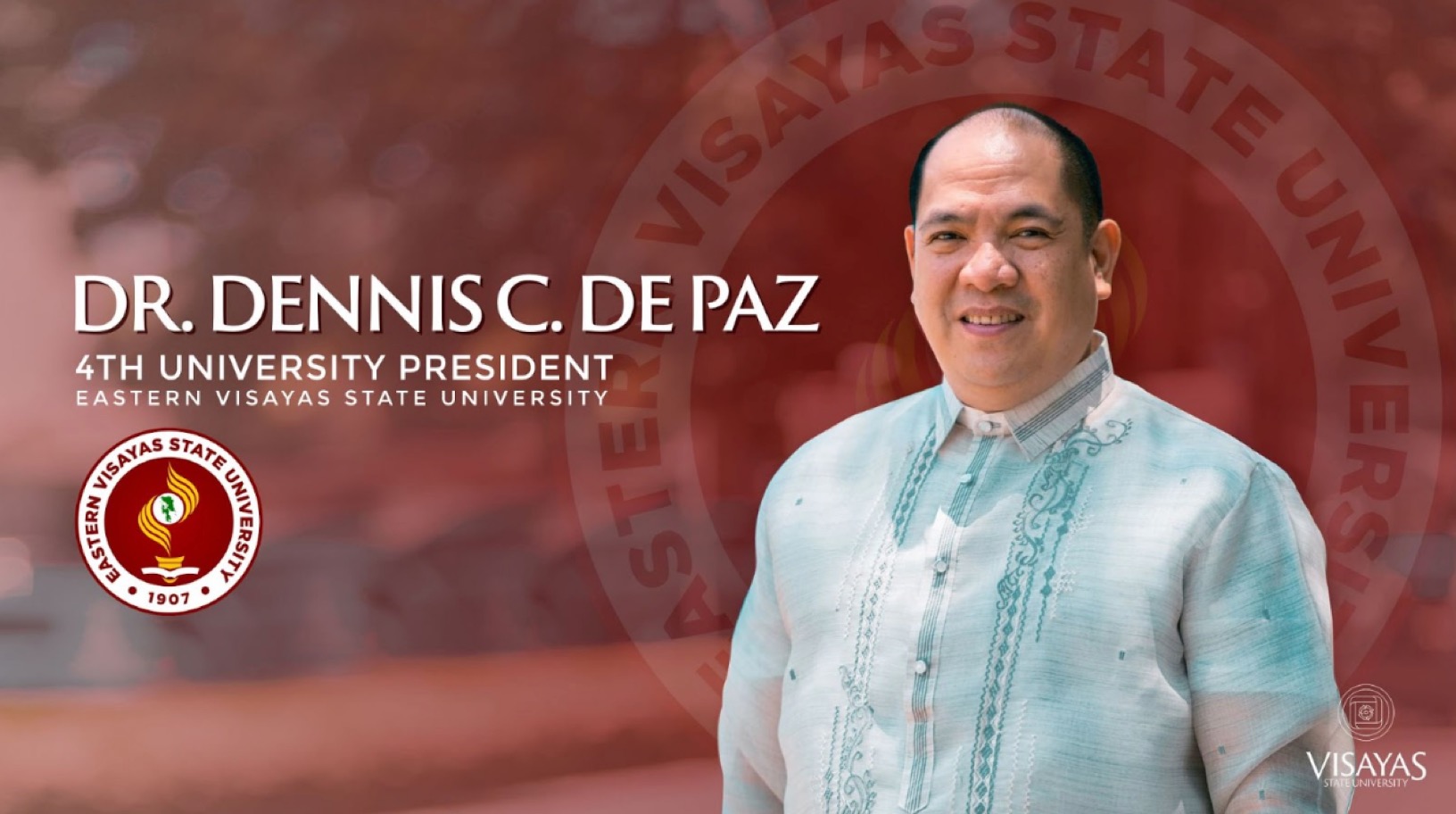 If one were to briefly retell the story of the newly appointed Eastern Visayas State University (EVSU) President Dr. Dennis C. De Paz, it would be best done through the words of the author Matshona Dhliwayo.
"A tree's beauty lies in its branches, but its strength lies in its roots."
To President De Paz, his roots were nourished at the then Visayas State College of Agriculture (ViSCA) where he finished his Bachelor of Science degree in Statistics in 1993.
Upon graduating, he was immediately hired to work as a Science Research Assistant in the research office and later as a part-time instructor for the Department of Applied Mathematics in ViSCA.
After two years, he then moved to Tacloban to teach Statistics at Leyte Institute of Technology, now Eastern Visayas State University. It was there that he saw himself growing professionally, and it was where he began to plan.
Through EVSU's faculty development program, he became a scholar as he took up his Master of Science degree in Statistics at the University of the Philippines Diliman (UPD).
Dr. De Paz planned to study in Australia for his Doctorate degree right after, but the policies in EVSU did not allow faculty members to consequently pursue their studies since they also had an obligation to serve the university. So, he decided to complete his Doctor of Education degree in EVSU while being employed there.
Before being elected as EVSU's new president, Dr. De Paz held managerial positions including Officer-in-Charge Director and Director of the Zonal Computerization Center for NBC 461 Region 8, Head of the Mathematics and Statistics Department, Dean of the College of Arts and Sciences, and its Vice President for Academic Affairs.
The roots that were once nourished by VSU are now the branches that bloom in EVSU. The very branches that helped propel him to where he is now.
This is the story of Dr. Dennis C. De Paz.
Where it all started
Visiting ViSCA was like falling in love at first sight for Dr. De Paz who, at that time, was only a simple boy with a heart full of dreams from Burauen, Leyte.
"The moment I stepped inside the university, I knew that I would be studying there. I told myself that this is the school I want. It was so beautiful; it was quiet and peaceful, there were not many people, and the facade and the campus was beautiful. I fell in love with it," Dr. De Paz recalled.
He had no second thoughts in enrolling for the statistics degree program, since it was his favorite subject in high school.
He stayed at Lauan Cottage, a place that he would call home in the next four years of studying in ViSCA. To young Dennis, it was the place that would witness him grow and be molded into the leader that he was now.
His life as a student living in a campus dormitory taught him values that could not be taught in any classroom—from practical skills like doing house chores, cooking, budgeting, and mingling with people of different backgrounds to lessons of sharing, cooperation, and brotherhood.
"I have three other siblings, but I was the only son in my family. Because of that I was often babied by everyone in the family. My experience living in the dormitory really helped me realize the importance of work, of house chores. It was difficult but giving up never crossed my mind because I always thought of my mother," Dr. De Paz shared.
ViSCA did not only prepare him for work, but it prepared him for life.
His college experience made him a man with independence, initiative, and strong will, traits that he found to be the strengths common in a Viscan graduate.
"ViSCA taught me how to be on my own, to manage my own problems," the newly appointed EVSU president revealed.
Despite the difficulty of being a Statistics undergrad, his rigor and grit made him graduate on time and immediately landed him a job in ViSCA as a Science Research Assistant (SRA) at ODREX (now the Office of the Vice President for Research, Extension, and Innovation).
There he would fall in love again and this time it would become the cultivation of his life's work.
A redirection to teaching
Dr. De Paz pointed to his experience as an SRA attributed to his love and appreciation for research.
As an SRA, he was tasked to consolidate on-going research projects which were mostly clerical work by nature. He also learned how to link and partner with other researchers and organizations that could provide funding for research work. Yet his eagerness to learn made him study and read the research papers he would receive.
"It awakened an interest in research that I never thought I had and I said to myself, if I were given an opportunity, I would like to make my own research work," Dr. De Paz said.
However, his job could not give him that opportunity.
ViSCA was only a small college back then and there were limited options for Dr. De Paz to pursue, so he tried teaching.
"I was sure I'd make a terrible teacher," he disclosed.
He reminisced about how young Dennis back then would see his mother working in the wee hours of the night, writing for her lesson plan. He knew back then that that work wasn't for him.
Yet there he was, employed as a part-time instructor at the Department of Mathematics to teach Statistics.
"But I learned to appreciate the work. I had students coming up to me to thank me for teaching them. It was a very heartwarming experience," Dr. De Paz said.
He worked in ViSCA for almost two years, both as an SRA and a part-time instructor. These experiences he would carry in his heart as he soon worked for another university.
What is meant to be, will be
Dr. De Paz began his work in EVSU armed with the knowledge of research and appreciation for teaching. And maybe that was why he was slowly carving a path he knew he was going to take.
He was hired as a Statistics instructor in the Mathematics and Statistics department at EVSU. He pursued his Master's degree while teaching and eventually his Doctorate degree in EVSU to learn the other intricacies of being an educator.
In the background, he fought for research to also be recognized as a primary function of the faculty.
"When I first worked in EVSU, research was not included as a priority for most faculty members. Personally, I saw it as a weakness of the university," the newly appointed EVSU president said.
EVSU President Dr. De Paz was one of the first few people to sow the culture of research in the university.
He studied the National Budget Circular (NBC) guidelines and he knew by heart that university faculty members were mandated to work in instruction, research, extension, and production.
"Most conversations the teachers had focused solely on teaching and I wanted to do something about it," Dr. De Paz revealed.
The prolific research culture of EVSU could be attributed to his appointment as the research coordinator of the university's College of Arts and Sciences.
Dr. De Paz started simple. He would gather faculty members to meetings and make them give simple presentations on the output of their students. It was a research colloquium intended for the faculty members to get a feel of what research is and how it should be done.
Back then, research work was not enticing to the faculty members and there were no orientations provided for them.
It was a challenge Dr. De Paz took and he changed the game for the better.
Gradually, he was invited as a resource person for making materials about research. That opened the door for him to continue smoothly. He acquired funding and assembled a team that presented research about organic farming.
The small team that he made, helped share the value of research in the university.
Now, Dr. De Paz assumes responsibility as EVSU's Chief Steward, one can only imagine the greater heights he will bring the university to under his command.
He plans to further strengthen the research productivity of EVSU by linking with government institutions and private organizations.
"The best way to go about it is through linkages. I am confident and assured because I know I am not alone. And I'm not ashamed to ask help from my fellow state university and colleges presidents because I know I have a lot to learn from them," Dr. De Paz said.
And despite the many detours he took, Dr. De Paz went back to research.
Perhaps it was destiny that led him to where he is now, but one thing is certain—the values and skills that were once rooted in his heart by ViSCA have now bloomed beautifully in another university, where Dr. De Paz continues to embody this through his work and in his life.