Col. Oliveros, ViSCA Batch '84, is new brigade commander in Ormoc City camp
Details

Written by Jesus Freddy M. Baldos

Published: 29 June 2020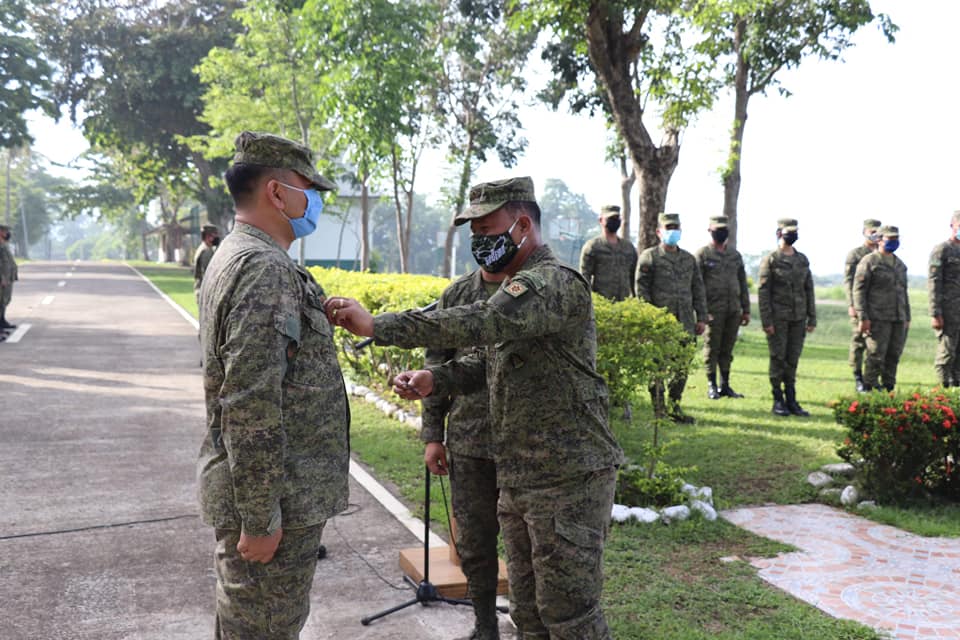 "Not to forget my experiences at VSU where I was exposed to the difficulty of academic work as a student and the rigorous military training as an advanced CMT cadet officer, these all prepared me for what I am today."
These were the words of Col. Zosimo A. Oliveros, INF (GSC) PA, after being appointed as the new Commander of the 802nd Infantry (Peerless) Brigade based in Camp Jorge Downes, Ormoc City on April 16, 2020.
Col. Oliveros was a student at the then ViSCA with a degree in Bachelor of Science in Agricultural Chemistry. He joined the Citizen Military Training (CMT) and advanced as a cadet officer. He joined the PMA in April 1987 and graduated in 1991.
"I am certain that my experiences in the actual situations on the ground supplemented with advance military training honed my knowledge and skills and capacitated me to do and accomplish the tasks entrusted to me."
The 802nd Infantry Brigade covers the provinces of Biliran, Leyte, and Southern Leyte.
Asked about his plans, Col. Oliveros said he is on a crackdown of organizations secretly supporting terror-affiliated groups. He will also plan to operationalize and implement the program of the national government on Ending Local Communist Armed Conflict (ELCAC), a National Task Force chaired by the Philippine President himself.
"We conceptualized the Brigade Development and Security Support Program where we empower the barangays and the organizations on the ground to make them productive and not easily wooed by communist terrorist groups, in coordination and partnership with the local government and other sectors," Col. Oliveros explained.
Viscan at heart
Col. Oliveros is happily married to a co-viscan Ms. Arlene Lofranco-Oliveros, a Class of 1990 cum laude graduate in BS Agricultural Chemistry.
Arlene is a former VSU instructor in Chemistry. After a year, she transferred to the UP Marine Science Institute in UP Diliman as a research associate and later became an instructor at the Institute of Chemistry.
"Though I enjoyed being a teacher and a researcher in UP, but my dream of becoming a medical doctor always haunted me so I decided to enrol in the BS Nursing," Arlene mused.
She earned her MA in Nursing at the University of San Carlos and became a clinical instructor for almost 10 years.
"Considering the nature of work of my husband, I realized that being a 'house manager' is my calling since most of the time he is in the field. But I have to make my time productive so I ended up as a part-time entrepreneur."
Asked if she regretted setting aside her work in the academe to help her husband, Arlene answered success should not be measured in material possessions.
"I don't have any regrets being an army wife. Though I am emotionally and psychologically affected with the deployment of my husband, I have to be strong and understanding and develop a deep faith in the Almighty. Personally, success is not only measured on career achievements and material things but having a good family and happiness within," Arlene concluded.